It's 6 o'clock in the morning and my eyes open to take in the gorgeous colour of the early morning sky. The blues mixed with grey giving way to the yellow and orange tint of the early morning sun rising beyond the green mountains, birds flapping their wings soaring up high glad to start another day, ships sounding their horn in the distance as they sail through the clear blue of the seas. From where I lay I can trick my mind into believing that I am on a holiday on an idyllic distant island with nothing to do except maybe read a novel or two during the day. The beauty of nature, the freshness of the dawn makes it unbelievable that I live in the heart of a big, bustling city, the city that jostles for space and turns into a cacophony of noise in just a few hours. I live in Asia's World city, I live in Hong Kong.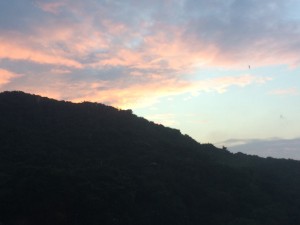 We came here in 2011 from the peace and quiet neighborhood of Wimbledon, London and goodness how I longed to get back to that world at that time. The loud sounds, the pollution, the indecipherable harsh language, the impolite people, the rush and the madness, I just couldn't come to terms with the city and what it had to offer. "We are leaving here in 2 years time," I announced to my husband in no uncertain terms. Once the kids settled in their schools – another herculean task of getting admissions, hunting for a house was another shock for me. I soon realised that my princely budget that could have rented a 2-floor semi-detached house in the suburbs of London, could only get me a little more than 900 sq ft of space! Shopping at the local supermarket and wet market was a nightmare as you couldn't just ask around for things without knowing their Cantonese equivalent. Worst of all was the transportation. I gave up on taxis after encountering rude drivers and drivers who paid more attention to their mobile phones than on the road and started taking public buses. While the big buses were fine, the minibuses came from an alien world, one that certainly doesn't adhere to 'Customer is the King' approach. And then Helpers! What was it about this place that made it almost compulsory for one to have a helper? Every family seemed to have them, even unmarried singles had them! And when I said that I didn't need one, I was given the 'Really? Why would anyone want to do that?' kind of looks if not pointed comments, and of course I was excluded from 70% of the small talk that revolved around helpers. Aaaahhhhh I wanted to run away!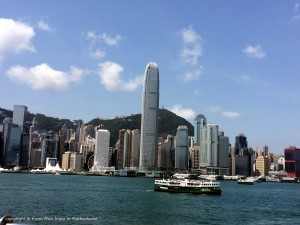 And then 4 years later – everything changed. Well not every 'thing' just my thinking!
2015
I am in no hurry to leave.
After the kids and home were settled, I focused on the first 'unfamiliarity' – Language. I enrolled for a Cantonese class. 3 hours every Sunday for 8 months and hey presto I can speak Cantonese! Well on a basic level at least. While at first I was quite upset at the 'local-ness' of my surroundings, it is the best environment to pick up a new language since I hear it everywhere. In the market, at the bus stop, on the streets. Today the same crass, loud words spoken by the locals are music to my ears as I quickly try to translate them in my head, making sense of what they are saying. I can use my Guang Dong wa in bits and pieces here and there and feel extremely proud when a local person shows his approval with smiles and praises. Suddenly I feel like I get the locals. They don't mean to be rude, it's just how they are. Time is of essence here and the reason they are so efficient is because they don't waste time on exchanging pleasantries. Works for them and certainly works for me now.
Next, I started my own venture – SUMMER. All the branding and marketing management that I had learnt in B-school was put to good use, as I started selling Western casual and children's wear sourced from India in the niches of Hong Kong. Friends were my first 'targets' of course but HK being a close-knit city it was easy to setup, spread the word using social media, take part in events and get going working from home. I don't think I could've done this so easily say in London or in other big metros. Imagine making your address public and inviting strangers over home, which brings me to the third positive and most important reason for me to stay put here.

Safety – HK makes me feel safe. While I do read of a few incidences, HK is generally a very safe city to live in. With the police omnipresent and vigilant and security guards in every building I feel comfortable even when I am by myself. And its not just in terms of money or valuables, I am also talking about personal safety. I can go anywhere, wearing anything I like, without thinking of what 'people' would think or say. There are no ugly stares, no cheap cat-calls and certainly no one trying to grab your backside here. Whatever time of day or night I feel safe with the Chinese people, their odd aloofness though annoying, is more than welcome and highly appreciated in this aspect.
Fitness – I have never felt so fit in my life. At 40 I feel I have more energy and strength than when I was 20. I have always loved the mountains and what better access could I get than right across the road from home! While I cursed the ups and downs of HK, struggling to manage my boys on their scooters going at break-neck speed, puffing up and down the wretched slopes with heavy shopping bags, it has certainly made me fitter. That I can just walk away from the pollution and noise up into the cool green of the hills in a matter of five minutes is a miracle that only this city can boast about.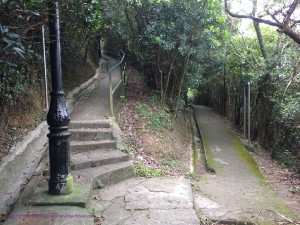 If you are a foodie then this is the place to be! The blend of different nationalities, different cultures and languages have given Hong Kong a truly International name for its cuisine offerings. One's taste buds can visit any part of the world by just walking across the streets of SoH0 – Hong Kong's wine and dine district. If one wants to, one can party every single day in Hong Kong. If the day's fatigue gets too much for me, all I have to do is head for the dining zone. All my day's struggle comes to an end with a glass of sparkling wine, sitting in a quiet or noisy corner, on a rooftop with a 360 degree view of the city or in a bar with music blasting off.
Even when I first came here I preferred the darker side of Hong Kong – its night life! Maybe because Hong Kong never sleeps, maybe because all the anger and the irritation that is cause by the daytime heat and temperature calms down in the coolness of the night, maybe because Hong Kong is never completely dark as it lights up the skies with its luminous skyscrapers and its famous light shows. The fragrant harbour is captured on many a lens by people sitting on both sides of the channel as they watch the beautiful sampans with a party on board, or a ferry chugging along taking passengers from Central to Tsim Sha Tsui or one of the islands back and forth.
Islands – And if this combination of noise and quiet, crowd and solitude still doesn't work for you, then set up home in a nearby island. From Lamma to Peng Chao to Lantau there is no dearth of peace and quiet with plenty of space (something that is severely lacking in city homes), could keep a dog or two and enjoy the solitude specially if you are closer up to the majestic mountains that tower these islands. Great vistas, lovely hikes, close-knit communities are other advantages living here.
I am sure there are a lot of other factors that keep people glued here. "I came here thinking it was for a year and now I've been living here for 16 years" is a line that I  hear quite often. Not sure about 16 years but at least for the next few, Hong Kong is the place I want to be in, Hong Kong is home.
Comments
comments