It's so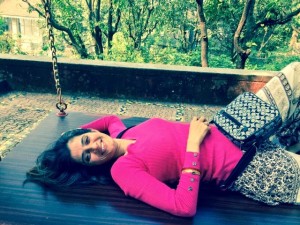 strange that sometimes when you really want to write about something, when you try your very best to put your thoughts down on paper, nothing significant comes out. 
It's frustrating! I have been trying to write about 'Turning 40' since the past one week and every attempt of mine leads to incoherent thoughts and muddled up posts. Although I have so many things to talk about, my thoughts keep floating in my head in different directions but seem unable to form complete coherent sentences on paper, or rather on screen. Having said all this and getting my frustration known to all, let me give it one  last shot, so here goes.
I turn 40, today. That would complete 4 decades of living in this world and no matter how young I feel or look, that's a long, long time, enough to have nostalgic memories and proudly declare what I always heard my parents or grandparents say "Aapra zamana ma toh….." (In our times…..). In our times we watched two channels on TV on Doordarshan, not because we weren't allowed to watch the others, but because there were only two channels available! In our times we could buy a bottle of Mangola or Thumbs Up for Rs. 3 and Rs. 2.50 only, I remember having Thumbs Up at times only to save that 50p although I was a big fan of Mangola! In our times there was no crazy traffic like today, no pollution too, and like we were discussing with yesteryear friends, this New Year's Eve night, at a much frequented local venue, 'In our times they always played romantic music for couples to cuddle up right after the New year blast at midnight. Where had that music gone?' It was sorely missing in the whole Bollywood drumbeat music. Maybe the 'aaj-kal' na couples don't need to dramatise their affection with moony hugs. Jumping up and down to the music beats seems to work just as well!
Sometimes I am riding the wave of the new millennium, sometimes I just want to close my eyes and go back in time, bring out the happy memories, savour those timeless moments. 

What's in a number they say which is so true. I knew I was turning 40 a year ago, I thought it was going to be different, friends made a big hype about it 'Wow turning 40 so what do you plan to do?' I thought I would do something different, feel different, but honestly now that the day is here the feeling is more or less the same. It's just like having any other birthday – special – yes, drastically different – No!
"Are you ready to face the 40s?" Some people asked me. I pondered for a while and replied "Oh hell yes! I am absolutely ready!" While I thoroughly enjoyed the 30s with all its ups and downs – motherhood, changing priorities, dealing with tantrums, living abroad, surviving holidays, struggling to feel and look young and yet turning grey – it was a challenging ride that made me realise and appreciate the strength of family bonds and the extraordinary effort and time that goes into keeping it strong. 
But now that I have crossed that bridge I am looking forward to the new decade. I have a feeling that this decade is going to be more about me, myself and I. Kids are growing up at lightening speed. I can already see that they don't need me as much as they did and getting more and more independent. Time now to accomplish those unfinished dreams, pick up the pieces of a broken career that got overshadowed by the love of motherhood, time now to get closer and more romantic once again with my better half, tweak those daily routines a bit to get more breathing space. It's time to rediscover our passions and walk together finding common pursuits for the coming years.
Hiking
,
blogging
,
teaching
,
fitness
are all the interests that I wish to rekindle and excel at. 40s are the new 20s -only with added benefits of maturity and experience. It's time to be a 'propah' lady, so bring it on 40s, I can't wait to see what you have in store!
Comments
comments