He came into our lives in the early morning hours of December 25, 2019.
My son was sitting in the balcony sobbing his heart out about Santa not giving him "nice" gifts. True that I always go out of my way to make sure that Santa knows exactly what my boys want and true that he has almost always delivered exactly what they had in mind. But this year was different. First of all my younger son is now 11…almost 12! Even if I haven't told him specifically I'm sure he "knows" by now and that we are just keeping up the pretence. Plus the whole protest scene in Hong Kong, its quite sad, people are not in the mood to shop and I was feeling the same. So this year Santa bought some random but practical stuff. It had a catastrophic effect!
On Christmas morning both the boys woke up early, very excited, specially my younger one, who ran to the Christmas tree in our living room to see his gifts! My 15-year old "dutifully" looked happy, carefully opened his gifts "from Santa," was pleased with what he got, kissed and thanked me and then went back to sleep. My 11-year old opened his first gift with good cheer and even thanked me for the musical snow globe that I could use as a pretty decoration in the house during Christmas! Then his excitement started waning and by the time he reached for his last gift which was a pair of shorts, he smile faded, his cheeks started turning red and his eyes started welling up with tears. "Santa doesn't know what I want!" he wailed. "I know there's no Santa! You have got me all these boring gifts!" "So what did you want?" I tried to reason, feeling very sad with the way the morning was turning out. Christmas morning has been a very special day for me for the last 15 years. Buying those lovely presents for my boys, gift wrapping them, making sure they don't find out the true identity of Santa, and then on Christmas morning watching, recording their faces filled with delight as they open their gifts! All these years, all that hard work had come down to this heart-breaking morning! After a few minutes of trying to reason with him, make him understand, I gave up as he started becoming more agitated and went back to bed, feeling very disappointed. 15 minutes later he came in with a sheepish smile, eyes still watery, nose still leaky,"Come Mummy!" he squeaked "Come quickly!" I didn't want to go as I was still quite upset with his behaviour but then I relented.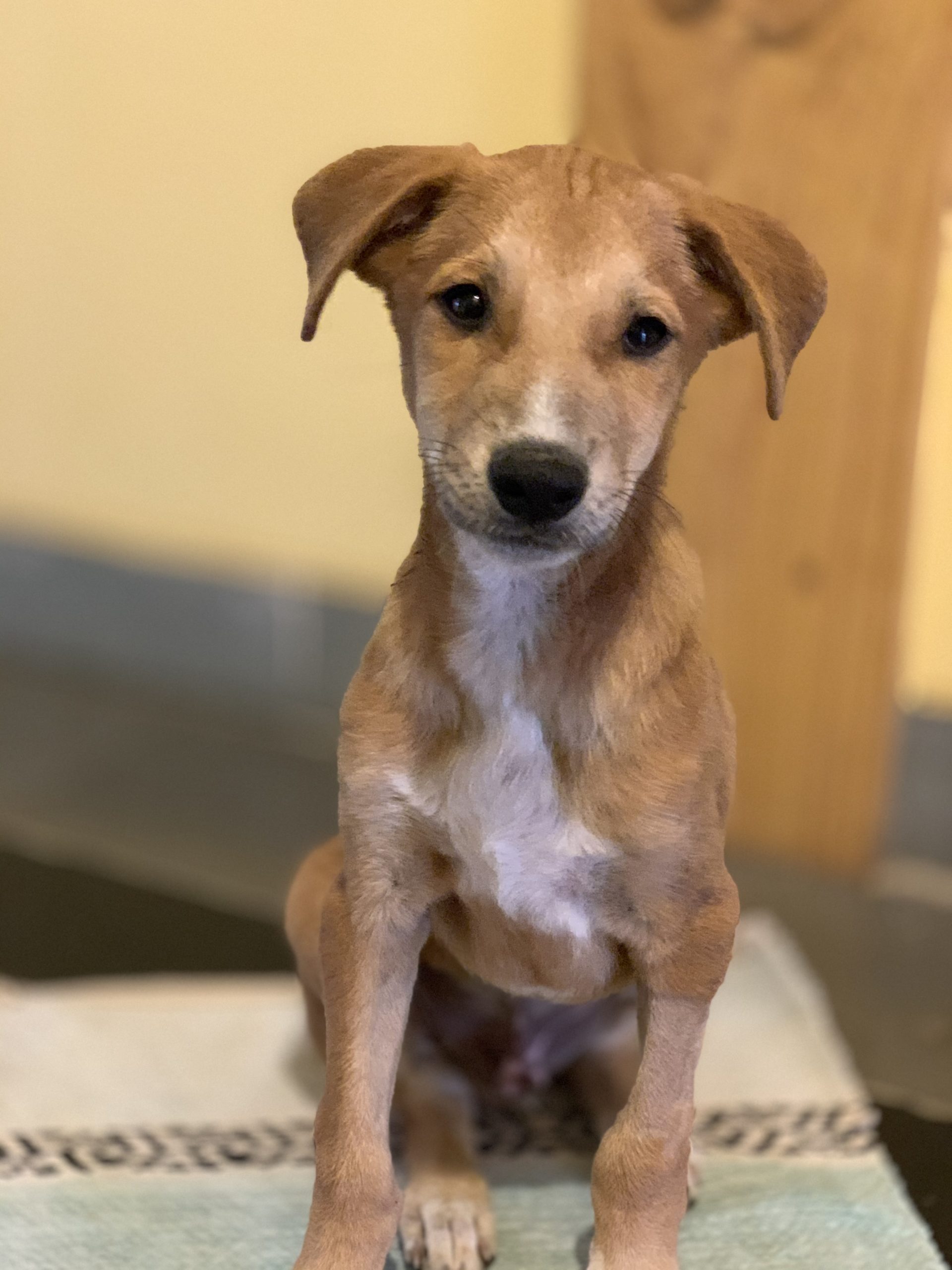 Standing on our balcony he pointed out at this scrawny looking light brown puppy trotting behind random people, trying to sniff them, asking for attention. I'm sure he belongs to someone was the first thought that I had. How can a random puppy out of nowhere suddenly turn up in our lane or our area for that matter as even though I didn't live here anymore and only came for holidays, I took pride in knowing most of the dogs in my colony lanes. All dogs are sterilised and vaccinated so where did this little guy come from? "Can I go and get him?" My son interrupted my thoughts. Ok I said. But first make sure that he doesn't belong to anyone. He didn't needed to be told again as he ran down in a flash into the park calling out to the pup. He stayed with him for some time, petting him and looking around to see if anyone would come and get him. When no one seemed to show an interest he simply picked him up and carried him upstairs.
Bobby our adopted stray wasn't too happy to have this little pup invade her space so we kept her away from him as he explored the house. My son had totally forgotten about Santa's gift and his unfairness this year. "Santa did know what you want, didn't he?" I teased him. He gave me a big bear hug in return apologising for his earlier behaviour. "So what shall we call him Mummy?" he asked. We went through a couple of Indo-Western names for him…"Noel!" I said. "He's Father Christmas's gift to you, isn't he?" My son seemed to like the name after saying it out loud a couple of times to the pup. And lo behold Noel was officially christened! It was so nice to see my son cheerful again that I stopped worrying about where the pup came from. I thought about doing a longer walk later to see if I could find more from his litter. Being a stray the first thing I usually do is to give them a good bath so we did just that with my son taking the lead. Then we gave him some milk but he didn't seem too hungry and had just a little bit. He wasn't a very active pup and was content to lie down on our lap or on this little cozy bedding that we made for him. We took care of him the whole day – playing, petting, feeding and walking him. I knew the night would be tough as I wanted him to sleep outside our bedroom and not inside, just like our other adopted stray Bobby, but being a pup and also new to our house, he kept whining and scratching till I gave in and brought him back to my bedroom where I put his bedding besides my bed, put my hand on his head till he felt comfortable and went off to sleep.
Next day early morning I took him down for a walk. He seemed in brighter spirits as he jogged along with me for a while and when he had finished his morning "jobs" I started to go back home till I noticed a random stranger stop suddenly and simply stare at Noel. Very reluctantly he came and approached me asking me if it was my dog? I told him how I found him the previous day and he looked so happy and relieved. "Yeh toh hamara kutta hai! Saab bahut khush honge!" (This is our dog. My boss will be very happy!) So Noel did have an owner, I thought…but I wasn't looking forward to giving up Santa's gift! Meanwhile that man called up his boss on his phone and made him talk to me. Apparently a decent Parsi Samaritan had rescued this pup along with the rest of his litter who were all suffering from a deadly dog disease…no wonder Noel looked so lethargic all the time.. and was keeping them temporarily in his apartment, treating them to medical care and good wholesome food. I was delighted to be making acquaintance with such a generous individual! And the fact that he was just fostering them meant that we could still keep him while we were in Mumbai! That also meant that the pup had a house to go to once we went away. Noel soon became quite popular in our building as all the younger cousins flocked him to see him. "Noooo-el, Noooo-el" is what I would hear the whole day as he picked him up and cuddled him taking turns to watch him, feed him, groom him or simply let him be. He also went for his regular injections and we continued his medications as given by the doctor. Noel was the best Christmas gift ever and we gave him all our love and affection despite the fact that I had to clean up behind him every now and then thanks to the virus affecting his stomach!
Soon our holiday was over and we returned back to Hong Kong. Three weeks later we were due to be back in Mumbai for a family wedding during the Chinese New Year break. We thought Noel would have been adopted permanent by then but he wasn't so lucky. In just three weeks his condition had deteriorated and he was still very much under the same care. We went to see him but he had become quite thin and could barely walk as his hind legs seemed to have become quite weak too. It was terrible to see our Noel in this condition. Dogs being dogs even in his weak and semi-disabled state he immediately started wagging his tail when I called out to him and he started making a humongous effort to walk and drag his rear half towards me. It almost brought tears to my eyes thinking how easily we give up on these furry friends and how very loyal and caring they are towards us. I sat with him for a long time patting his bony head and body and feeling the love. This soon became our routine as my son and I would go downstairs to meet him near the park. Our aim was to get him to walk whatever little he could so we could help him strengthen his muscles. At first he walked reluctantly but then in a couple of days he walked almost the entire length of our lane after taking a few pauses in between. Once he even attempted to do a little trot along with my son and after a few steps he would look up at us, as if to hear our "good job" and "well done" wagging his rail-thin tail in return. I was quite positive about his progress that day, even hoping that we see him recover completely before leave Mumbai. However fate had something else planned. Just the day after his little encouraging trot, his health took a u-turn and he visited different doctors. Then one fateful morning when I met him he was looking extremely weak and exhausted, and his eyes looked empty, as if he didn't want to try anymore. I sat and petted him praying for his pain to end, as he heaved his little bony ribs up and down. A few hours later I got a message that he had passed away. My first thought was I wish I had spent more time with him. I wish I could've done something more to save his life. But I also knew that he was relieved of the constant pain that he used to be in, relieved of his constant medications, of his daily injections and IVs and in a way I was happy that he was in a better place. I shared the news gently with my sons that night and we lit a candle for him and prayed for little soul to rest in peace.
We love you dear Noel

For although you were a part of our lives

For just a little while

You filled our hearts with love 

And your memory will be etched in our minds and hearts

Forever and ever

Our special little gift from Santa

Rest in peace my darling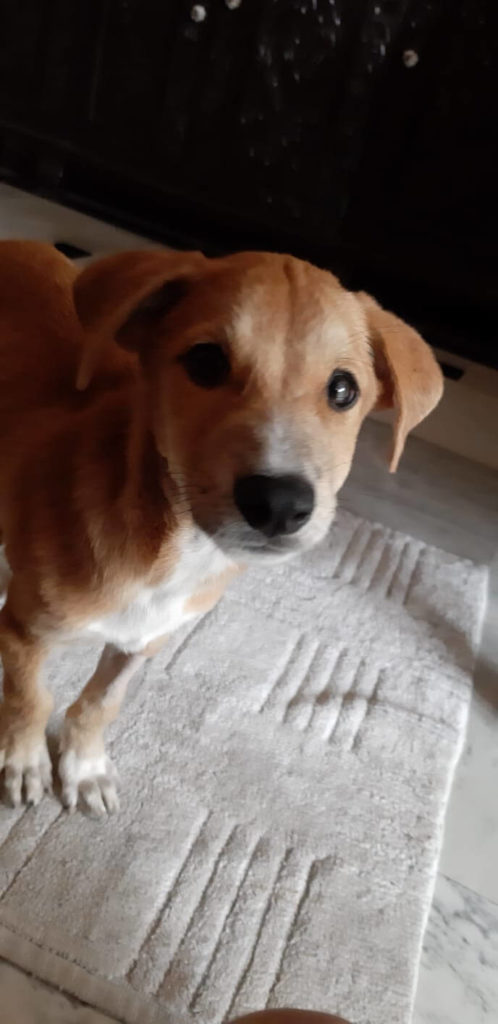 Comments
comments