World Dream. I just had to mention the name of the luxury cruise line that we would be taking and both my boys started surfing the internet at the speed of lightning! "It's a REAL cruise ship!" was the first comment. Of course it was…did they think I was taking them on an imaginary one? "It has two swimming pools, one with a ginormous slide!" Was the second comment. "We are going to the steak place for dinner!" I have never seen my boys do so much research for any holiday we have ever taken before! There was a LOT of energy and a LOT of excitement in the house!
Cruise Day! FRIDAY
We left home at 6:30 pm allowing ourselves one hour to reach Kai Tak terminal from where the cruise ship departs. However we did not take the peak traffic into account as there was a sea of people waiting to change trains at Central! We had to miss 5 trains before we managed to get into the train going towards Kwun Tong! This was our second change of trains and we had yet another change to make at Yau Ma Tei. It was already 7:25. I could visualise the ship blaring it's horn and making a slow move into the giant ocean…just like they show in movies….with our dejected family watching it go. "Get ready to jump out when we reach our station and run to the taxi stand! Do you hear me?" I took command over the deflated faces. I had already texted the lovely lady from Genting Cruise Lines who had very kindly offered us this complimentary stay, to let her know that we were running late. She was very supportive and said it was ok and that we would make it! But it was already getting close to 8 and I was trying my best not to panic!
"Next station is Kowloon Tong, doors will open on your left" and we gathered towards the exit ready to jump out. My older son took lead in figuring out the right exit while I ran behind lugging the stroller bag and my younger son in the middle making sure we stayed together. It wasn't easy as the station was pretty crowded and the signs were not easy to follow but we made it to the taxi queue only to see my husband who had reached much earlier still waiting in the queue with a good number of people in front of him and no taxi in sight! We panicked at first but then took a moment's satisfaction when we saw other cruise ship takers (easy to recognise Indians carrying overnight luggage in a sea of local Chinese people) who were standing in the same queue with stress written all over their faces. We gave each other comforting looks just when a steady stream of taxis started coming in and a few minutes later we huddled into a taxi shouting "Fai di la fai di la Mm goi" (Faster faster please!) even before we could tell him our destination!
It took about 12 minutes before a gigantic cruise ship with luxury dripping from its well-lit decks came into view. WOW! was written all over our gaping faces, heads turning necks craning till it disappeared from view as the taxi took a turn. Once we reached the terminal we ran inside all the way up to the reception area where we were greeted with smiles as we showed them our boarding passes. I noticed that the other Indian families were not with us and realised that this was a separate check-in area for Palace guests! Here I met the lovely PR & Marketing Manager from Genting Cruise Lines who had been reassuring me all along that I would make it.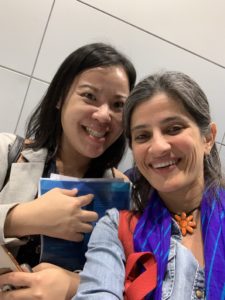 I was so happy to see her that I hugged her! Complimentary canapés and drinks were served here but hungry that we were we couldn't wait to step aboard the beauty and we ran all the way with big smiles plastered on our faces!
More greetings awaited us on board as the crew welcomed us in! There were so many people, bright lights, music playing, a show happening- it was a sensory overload! As we walked ahead in a single file like zombies someone took a took at our boarding cards and ushered us towards a lift which took us to our floor. The doors opened and we were transported to a different world….the loud music and madness left behind. We were in the Palace wing.
My boys ran down the aisle trying to locate the room number. All this running was good as I certainly didn't plan to do any power workouts on this holiday! The room was a very good size considering it was a cabin on a ship, with a beautiful bathroom with a standing shower and a bath tub. And I was delighted with the curtain one could draw in between the sofa bed and our massive master bed offering us privacy. Oh and there was a private balcony too!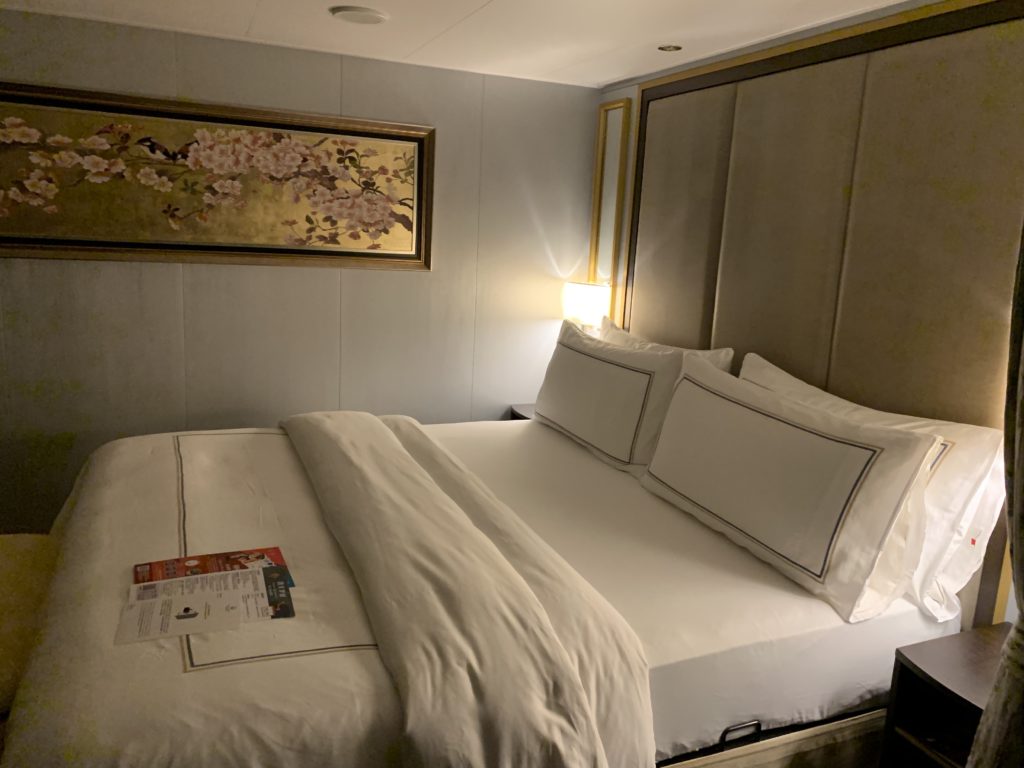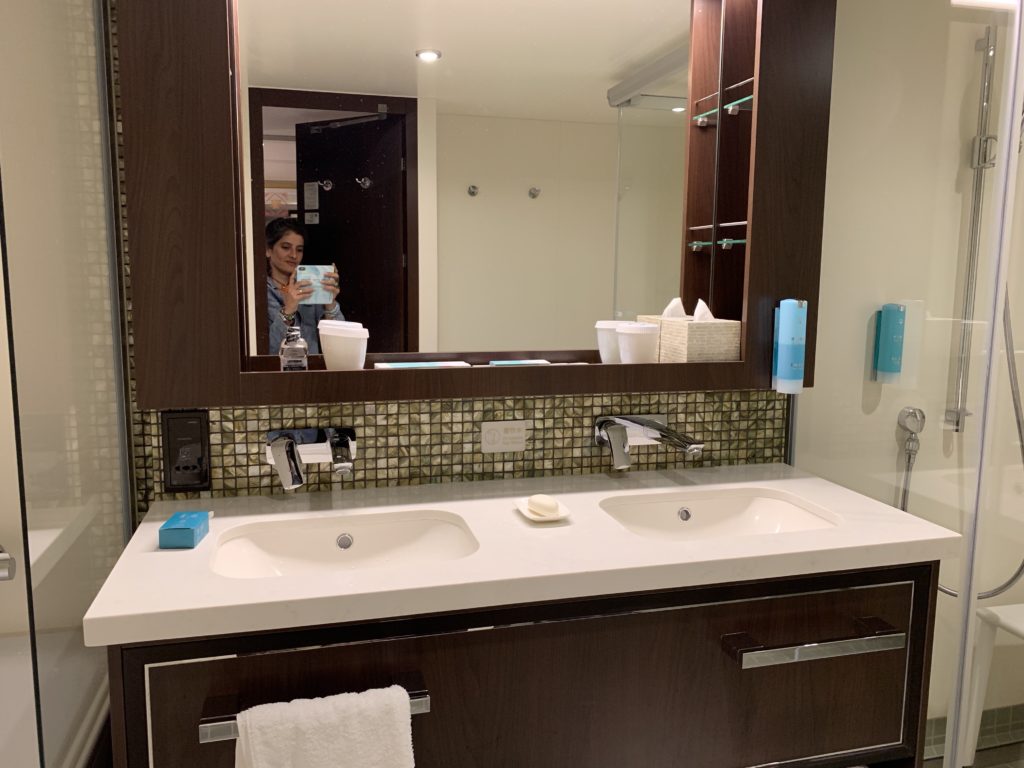 Every suite comes with a personal butler service who came promptly when we called. She was a sweet young girl but her English was not so good, which turned out to be an added bonus, as I could now ask my older son to become the official translator which after a bit of hesitation he was happy to do! She led us to the Palace restaurant for our dinner and good thing she was with us as the ship was a maze of passages and rooms and we would have certainly got lost on our very first day! The Palace restaurant served a nice buffet dinner and I also happened to meet an old friend there which was a bonus!
Post dinner we sat at the bar area chatting with the bar attendant. He was from Cambodia. What I loved about the staff was they were all from so many different countries – Philippines, China, India and we also met someone from Turkey! In fact he was the one who showed us around the ship – something that my younger son really wanted to do. We walked past the Palace, into the common areas, recreational decks all the way to the bow of the ship, then back inside to the restaurants, spa, gymnasium, middle deck and finally back to our rooms. I was exhausted but didn't want to miss a really good Cuban dance show called 'Dulce Habana' that was starting at 11 pm. So we dropped the kids and walked to the theatre. Being Palace suite guests we were given front door priority and got first-row seats to the show. I better not get too used to this 5-star treatment, I thought! Although I was tired I was so glad I came to the show as my eyes were treated to the best dance moves I had seen in a long time! The feet tapping music almost made me want to go up on the stage and dance! The dancers were so graceful and beautiful and it was astonishing how they could move their bodies to the rhythm of such fast music!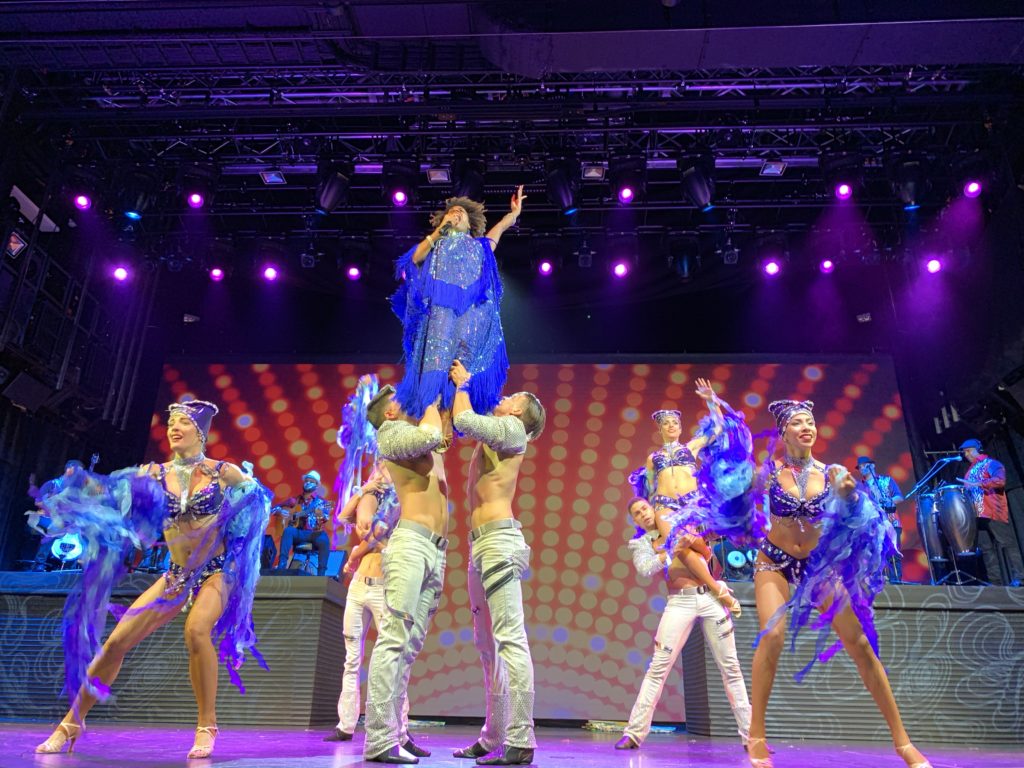 After the show we were too exhausted to do anything else and headed back to our room for a good night's sleep.
SATURDAY 
I wanted to see the sun rise and woke up at 7am and walked out to the balcony. A glorious sight treated my eyes!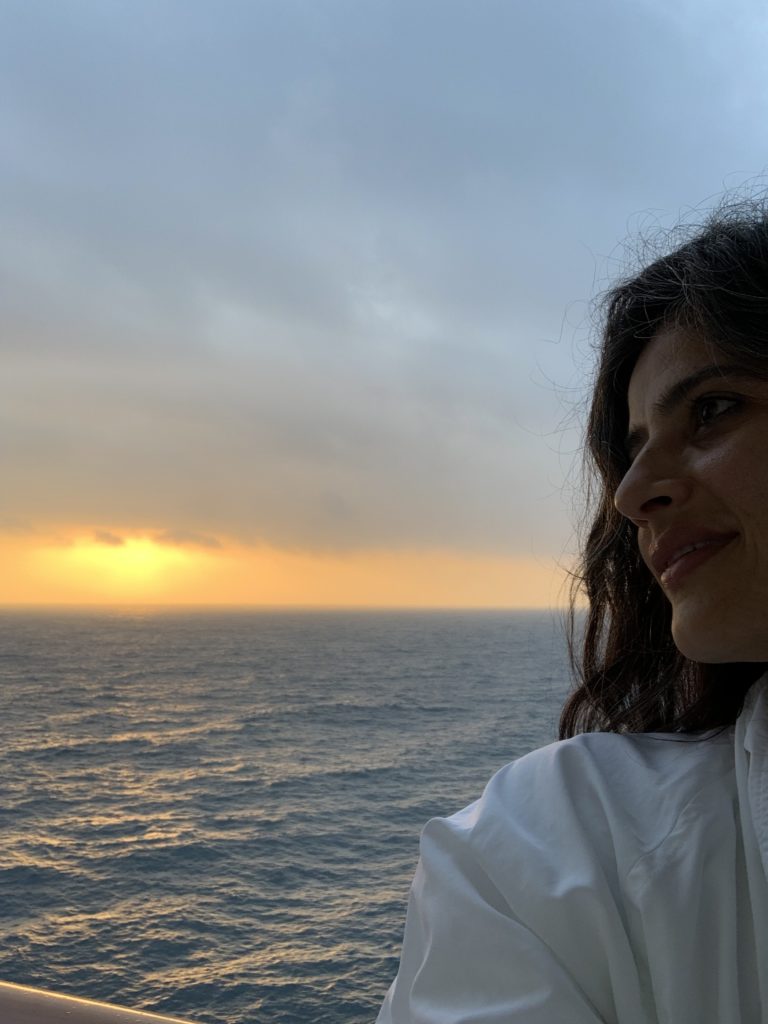 I barely had 5 hours of sleep but my mind was awake at the sight and I got ready to go for yoga that was planned at 8:00. I woke up my younger son who after a few groggy moments sat up straight and then went to get ready too!  Arm in arm we exited the room excited to explore the ship by day. The sun was out and we must have sailed into warmer waters as it wasn't chilly like the night before. The yoga was on the open deck near 'Zouk' at the far end of the bow. I was given a mat and got ready for the long stretches that my body needed while my son was happy to be an onlooker.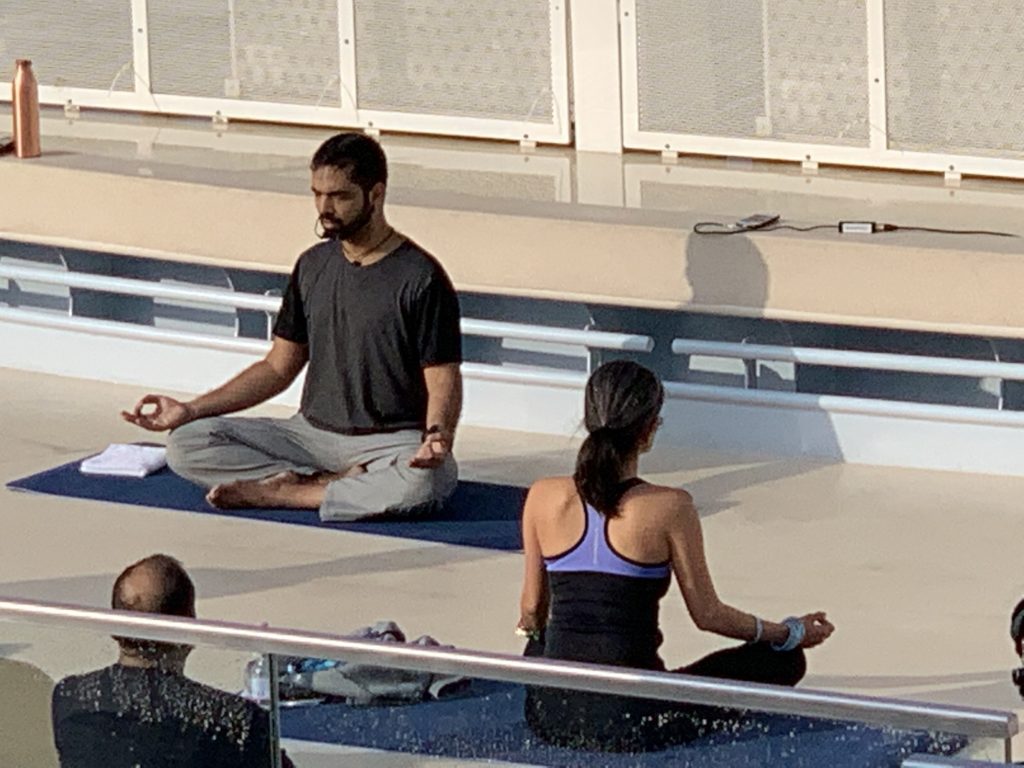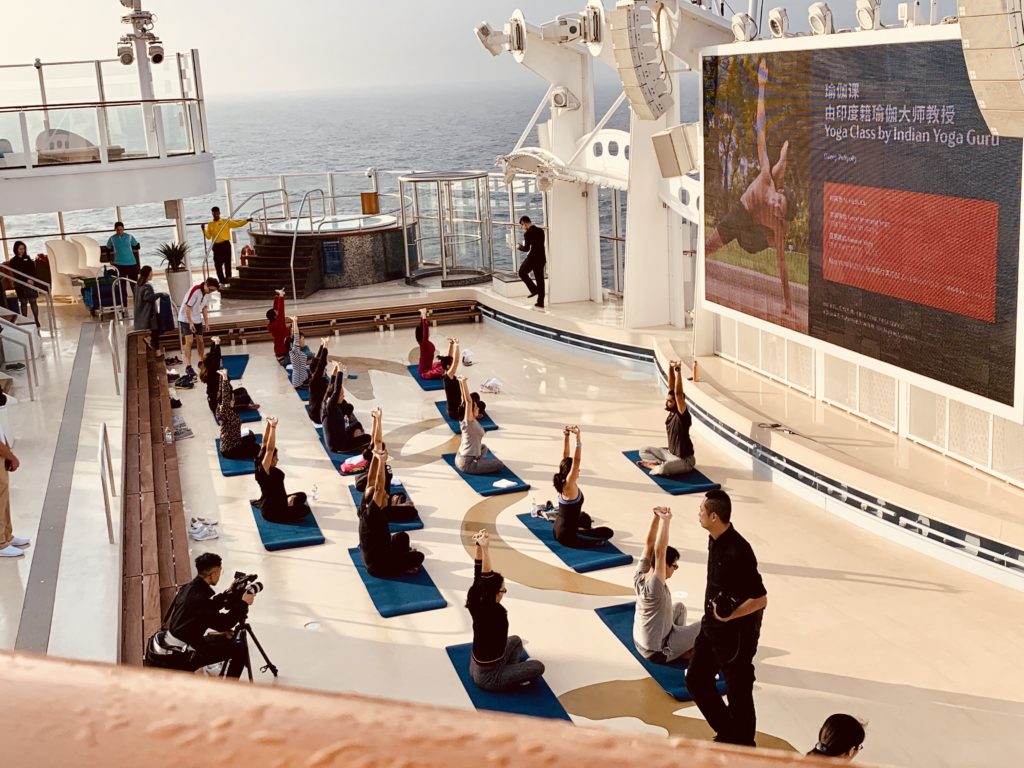 Exercise -check! I was ready for my breakfast now! And we proceeded to the cool interiors of the Palace restaurant to join the rest of the family. I gorged on a healthy breakfast of muesli with yoghurt, eggs and a coffee and felt ready to conquer the world! My boys couldn't wait to go on the slides and went to change. The open deck was now filling up with people as we tried to figure out the entrance to the big slides. We spent a nice morning soaking in the sun and just looking out at the ocean.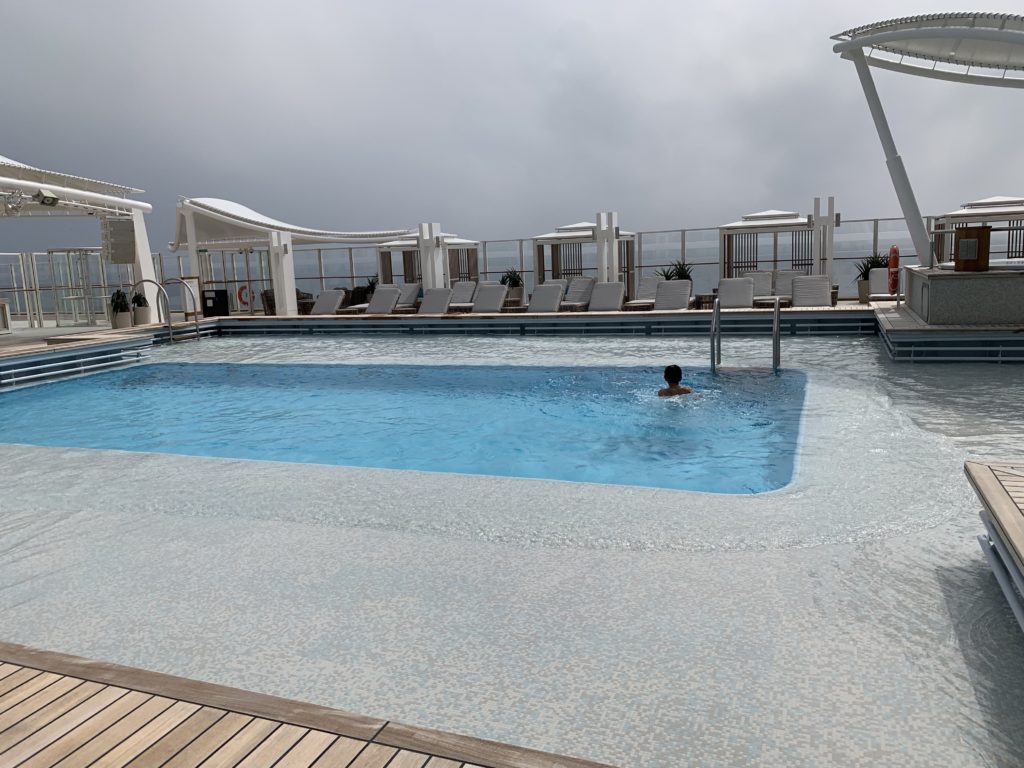 When my kids had had enough of the slides we went to the Palace size pool which seemed very private in comparison. In fact we were the only ones there! That made me run to my room to change into my swim wear and I joined my boys in the hot jacuzzis to get a nice massage!
Our lunch booking was at 1:30pm as made by our butler and she was waiting for us when we headed back. We had chosen 'Umi Uma Teppanyaki' restaurant where we were treated to the chef's magical dance as he effortlessly cooked all our food in the open display kitchen while our senses were being assaulted by the range of his spices! If there was a reward for asking questions I would have certainly bagged that one as I tried to make a mental note of the ingredients used in his dishes!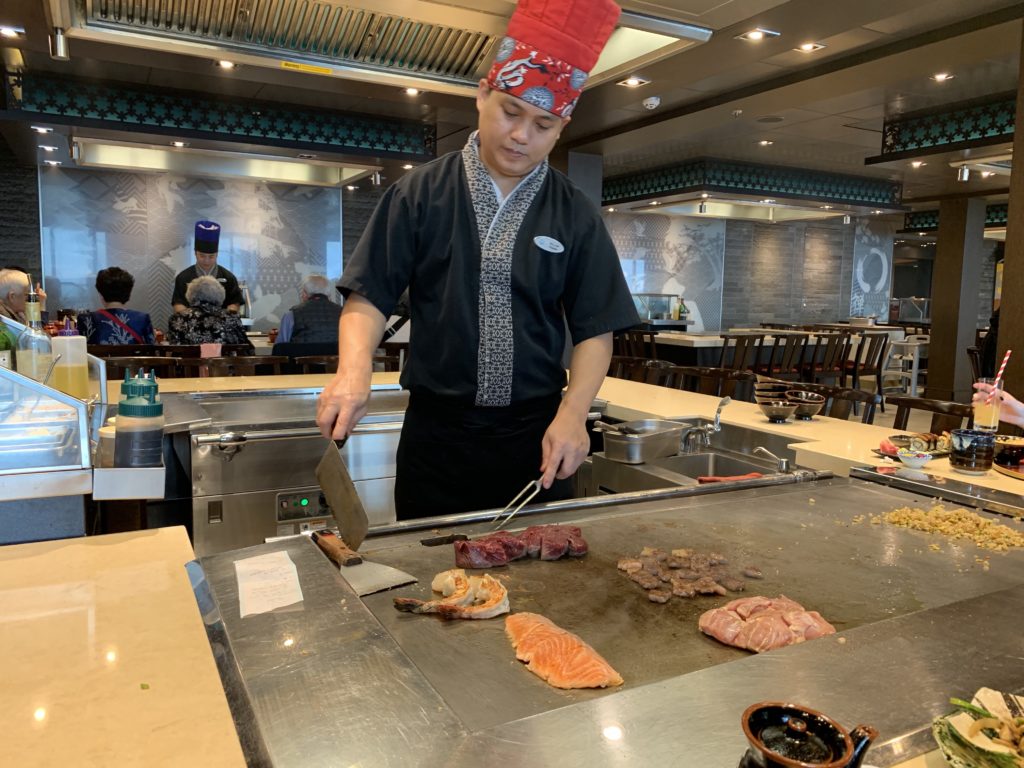 We thought we would relax in the afternoon but where is the time to rest and relax on a one-day cruise ship that is filled to the brim with activities and things to do. After a quick shower the boys headed to the VR (Virtual Reality) room while I wandered around the deck taking more photographs and I was surprised to bump into more friends!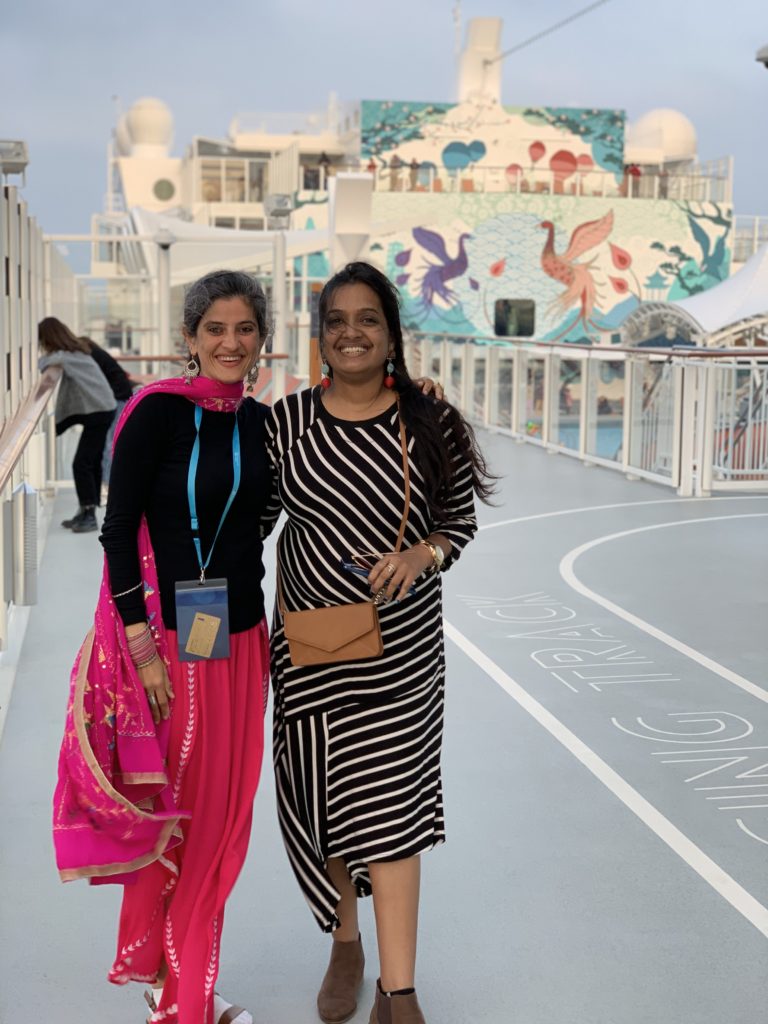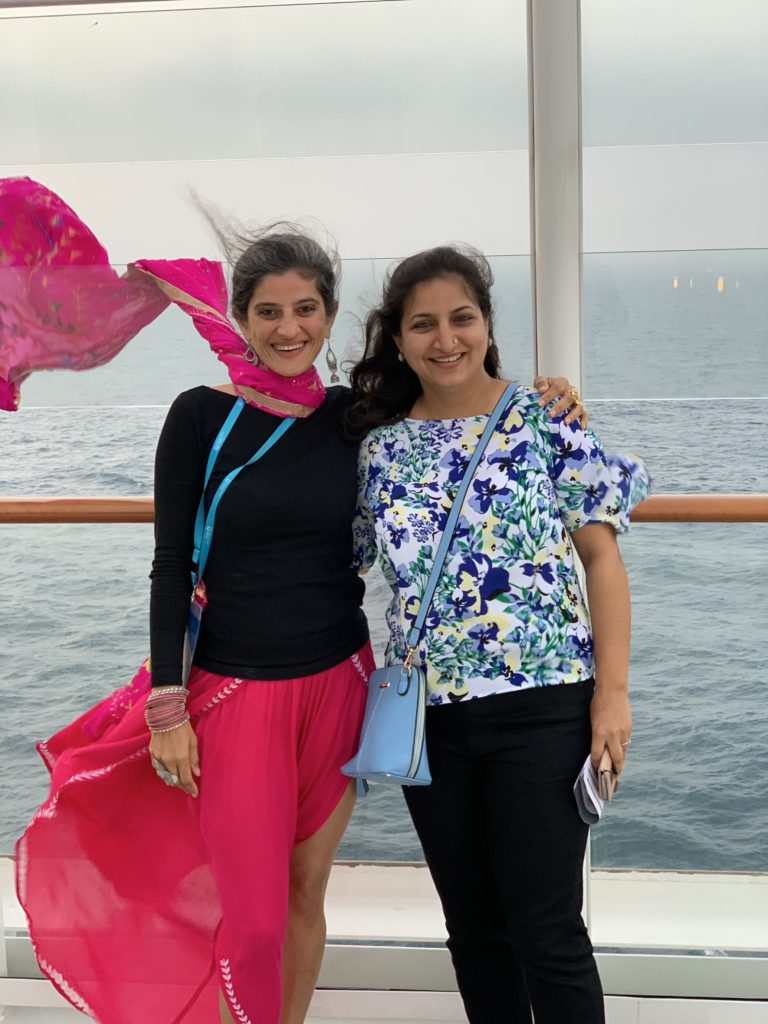 As the hours passed the afternoon hot sun gave way to cooler breeze. It was almost time for our next show and this one we went as a family. We were given the priority entry once again and settled down soon into our comfortable seats. This was a Dream Cruises signature show called 'Faith' and what a wonderful mix it was with different kinds of dances and performances from trampoline and ropes to ballet to Opera to Chinese acrobats! There was even a 'mermaid' like girl who seemed to have no bones in her body and who performed her stint inside a giant pot of water!  You can catch a glimpse of that performance here. 
rosi5p1eS4WJOTKhj9mdKg
Post show it was time for dinner. My older boy chose 'The Prime Steakhouse' this time and was looking forward to his 'Ranger steak.' I chose a grilled salmon, my husband indulged in a lobster while they made some pasta, which was off the menu, for my younger one. I didn't want to get to too full as I was looking forward to dancing the night away at the Bollywood dance party!
This cruise was a special Bollywood themed cruise. They had a Zumba dance, a yoga class which was fantastic, Indian food and snacks and the best part they had DJ Rink who was flown in all the way from India! The party was meant to start at 11 pm and by the time we reached there was a crowd of happy Indians already on the dance floor moving wildly to foot-tapping Bollywood numbers! I did not realise that this cruise had managed to attract such a big group of Indians! We waited and watched for a while taking in the music, the people, the sea breeze, the neon lights on the screen and then slowly but timidly we walked towards the dance floor ourselves. I was happy that my friends were there and we quickly got into a group and thumped along together. Thankfully Bollywood music doesn't need any particular type of movements and just about anyone can get in and feel comfortable with whatever comes naturally to them, so no one looks odd or feels left out. It was a good thing that I had my flats on as I could jump, skip, shake as much as I wanted without any restriction. I hadn't danced this much in a long time and we continued all the way into the night till it was almost 3 am!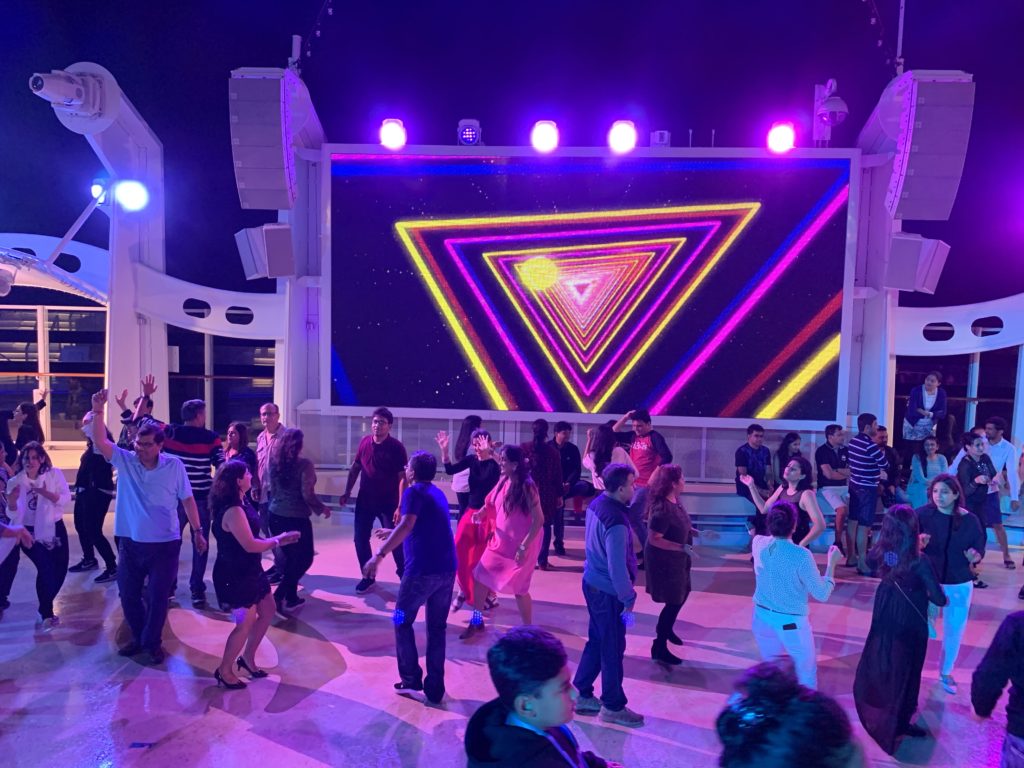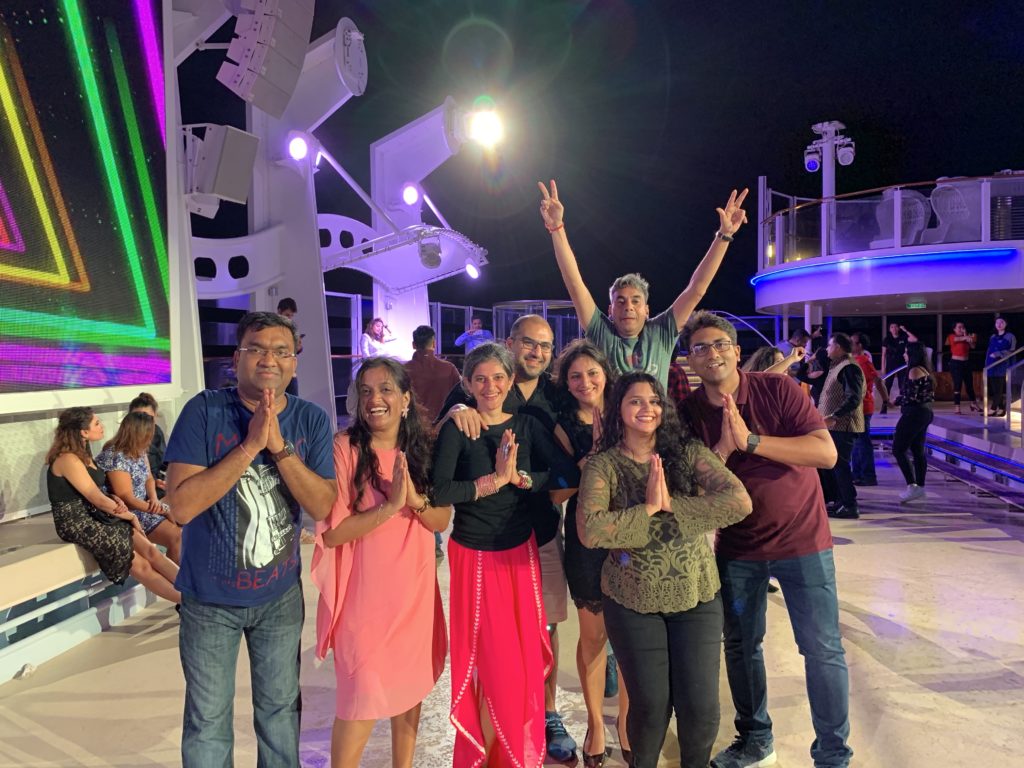 We had an early morning wake-up call as the ship was supposed to dock back in HK at 9:30 am. With barely four hours of sleep I was still quite groggy even after my shower and after packing up our stuff I headed to the restaurant to get a good coffee fix. Breakfast was good but now our full ocean view had turned into a concrete view of buildings. I had promised my younger son a final ship exploration so the two of us headed out doing just that straight after breakfast! We went through every floor, every deck, right upto the doors that said 'No Entry except for staff' and wished that more parts of the ship were open to the public.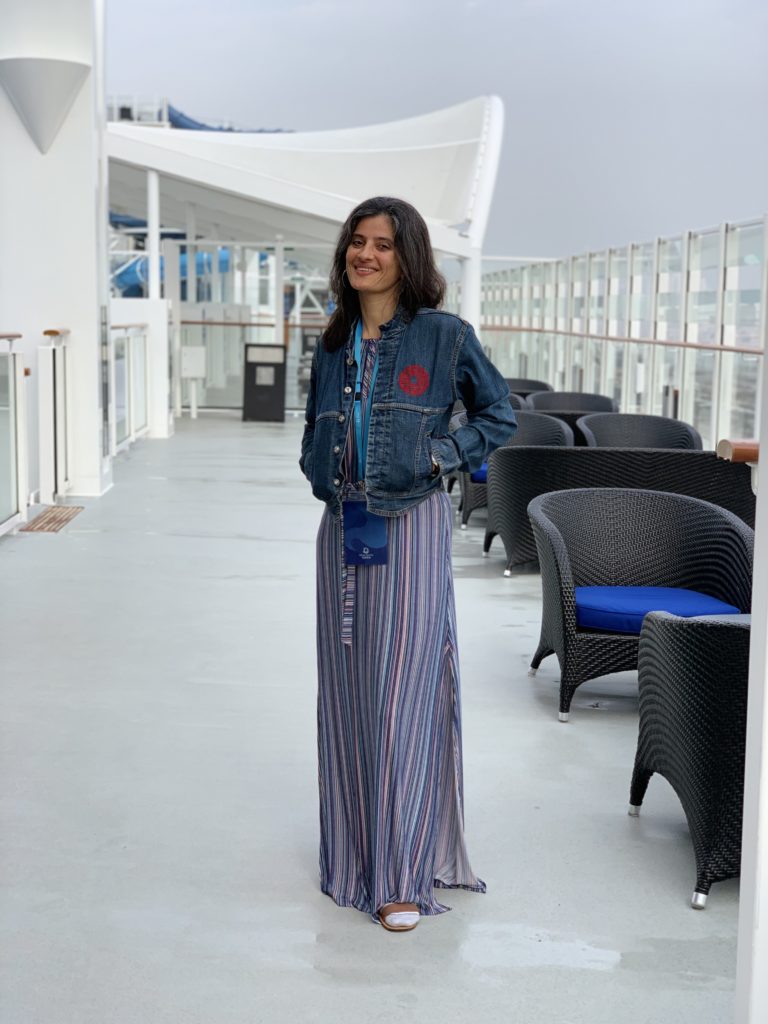 Our holiday had come to an end and we all slowly walked out of the ship looking behind, taking more photos, carrying back beautiful memories of a fantastic holiday!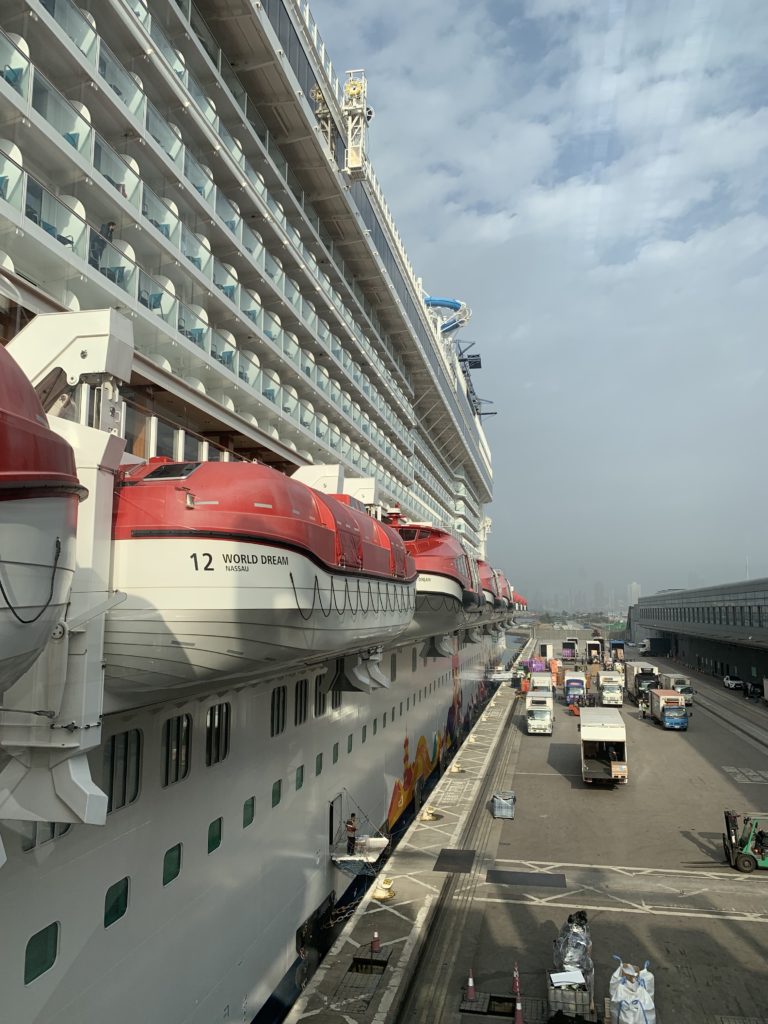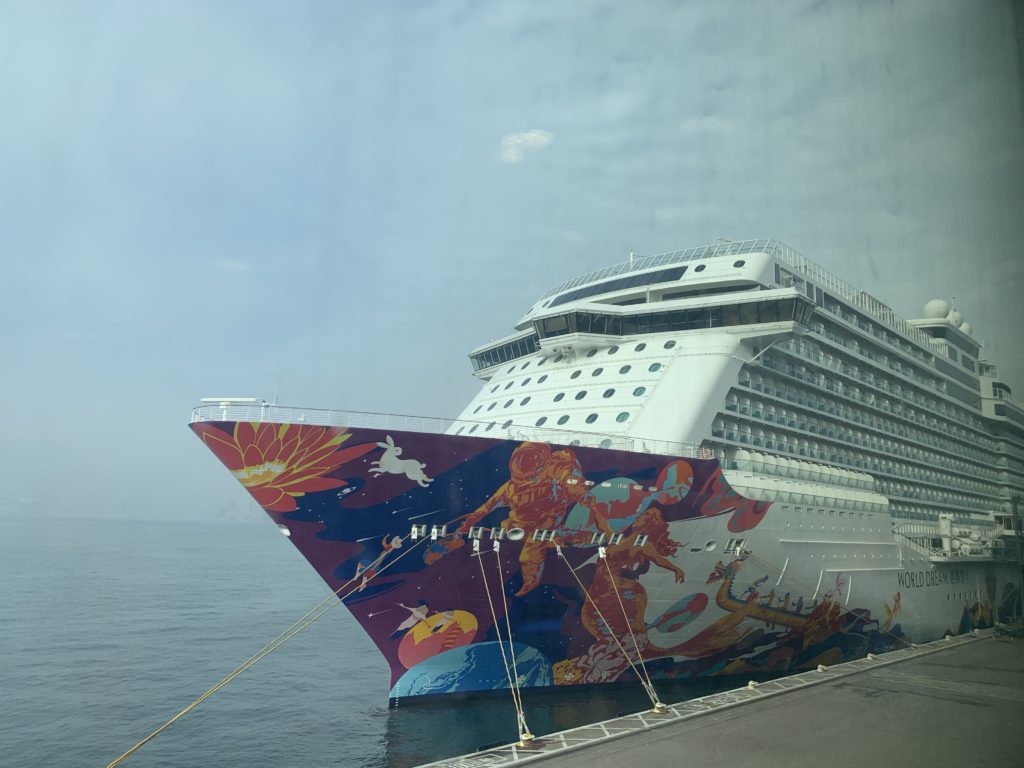 Dream Cruises is coming up with more 2-night and 5-night cruises and you can get information from their
website
. I would like to thank Genting Cruise Lines for giving me and my family this wonderful opportunity.
Disclaimer: Please note that the views given above are based solely on my own experience and reflect my personal thoughts and opinions. All photographs used are my own and are subject to copyright. 
Comments
comments