At first I thought the sudden announcement about the early CNY holidays for kindergartens and Primary schools was a joke being forwarded around on a WhatsApp group, till it was actually announced by the school and I rushed to get our calendar from the kitchen to see what I had planned over the coming few days. Once I realised that there was nothing that I couldn't cancel or postpone, I took a deep sigh of relief and got on to quickly planning activities to keep my son busy and happy over this sudden unplanned break!
The mommy WhatsApp groups were going crazy and ping-Ing by the dozen as frantic mums specially the full-time working ones were trying to schedule play dates and looking up CNY activities to enrol their kids into. Sometimes it does help having a flexible home-run business as "disaster-management' gets a whole lot easier. I went through a list of activities in my head that I shared in common with my son and finally knew what I wanted to do during this "special" Flu holiday…..It was outdoors, it was safe, it did not need any pre-booking and it was Free….HIKING!
We both have a common love for the outdoors and nature so I knew we'd have fun specially with the lovely weather outside but I knew it would be even more fun if we hiked in a group. I got lucky when a hiking friend whose child goes to the same school agreed to join us! She is a hiking pro this mum so I left all the planning of the 'where' and 'how' to her and sat back and relaxed, looking forward to the fun day ahead!
Our hike started in Aberdeen. We met at 9:00 outside the Aberdeen Chinese temple right at the start of Aberdeen Reservoir Road. I was delighted to know that now we were four mums and four kids hiking together…more the merrier on a long hike! We started walking up the steep slope of ARR then thankfully took a diversion at the left shortly after to start the trail leaving the dust and pollution behind. The kids were super excited and were running up ahead. The good thing is that we moms and kids matched our pace so no one was too far ahead or too far behind. I think this is very important aspect in a group hike which could make it as interesting or as boring as it can get.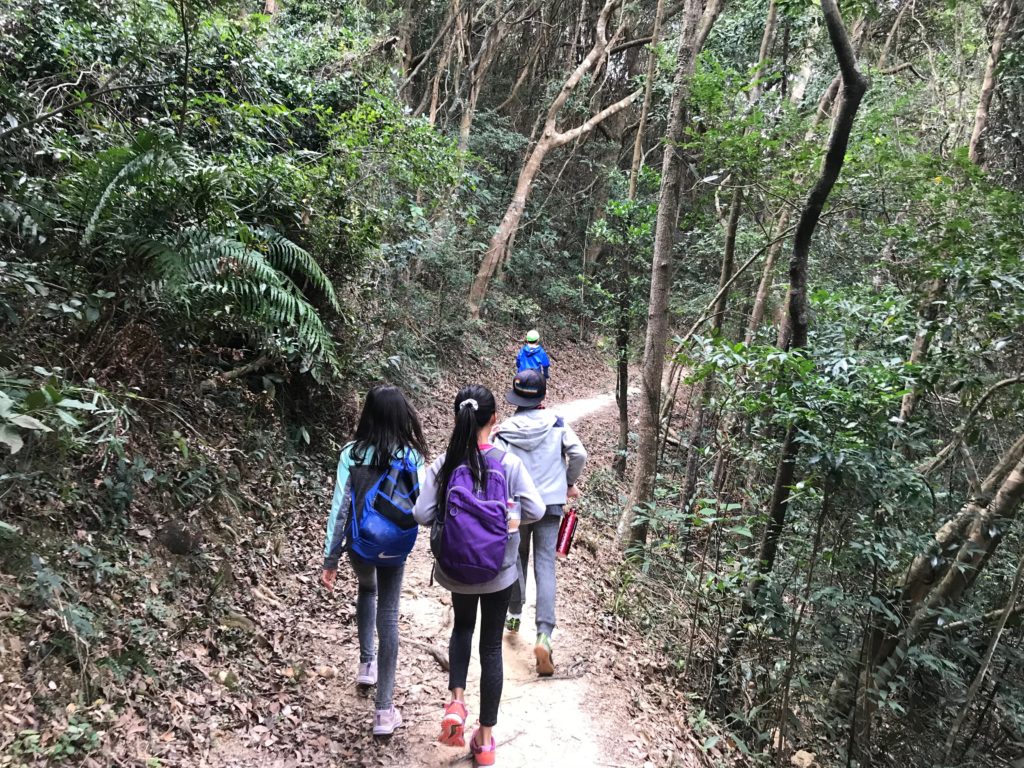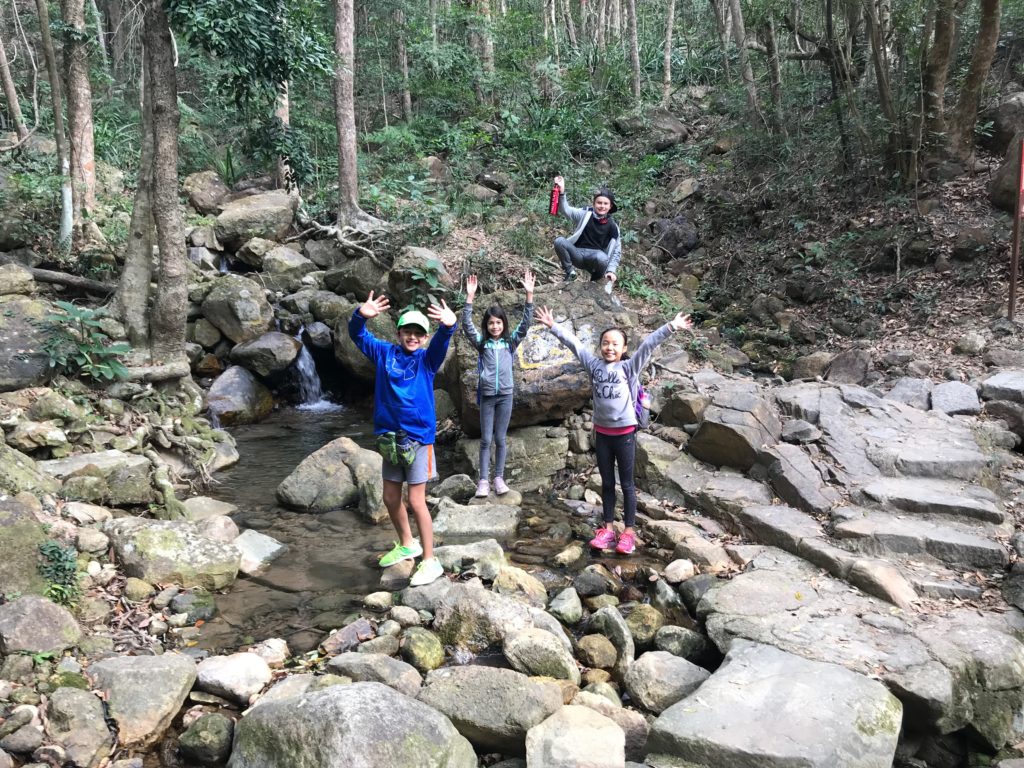 We continued up the path till we reached another crossroad. Going straight would take us to Wah Fu but we took a right on Hong Kong trail and continued upwards and onwards. It was a gentle slope up at first and then turned into a narrow nature path (without all the concrete) surrounded by woods on both sides. While the path was quite windy it was all flat and a lovely trail to do even in the summer as it was totally shaded from the sun. The silence of nature interrupted only by the laughter of the kids – still marching up ahead of us keeping the mood light and the spirits happy. We continued walking till we came to the end of HK trail and walked out towards Wanchai Gap Road. We even found a dead baby snake on the way!
Once out of the woods we took the Black's link path starting at the Police Museum and walked all the way down towards Hong Kong Cricket Club. The path is safe, steady, on concrete but quite "uneventful" with very limited views and one would really need a friend or some music for company to see it through. Towards the end we passed through all the "palatial" size apartments giving us a different glimpse of Hong Kong life away from the neck-to-neck high rises and box sized apartments. That was the end of the first stage of our hike and I was half expecting the kids to start complaining as we had done about 7 kms by then. Honestly if I didn't have company I would've stopped right there too and taken a bus back home.
The hiking party moved along onwards and upwards – literally as the slope going up towards Hong Kong Park View is very steep. A quick toilet break and a diversion to the right suggested by our group leader was very welcome. This path starts next to a reservoir and follows the catch water section most of the way. While this path is gentle it has no views and so we continued walking without any break dreaming away about the lunch that we were planning to have at a Chinese restaurant. Some of us were even contemplating the menu, ordering and re-ordering the dishes in our minds… anything just to keep going! We finally reached the cross path where most hikers take a break and some deep breaths before hiking up the Torturous Twins! Thankfully we had no such intention and took a different path going down. Wasn't even a path really as we stumbled over rocks and pebbles trying to find a foothold as one foot followed the other in a race to catch up with the kids who I think had sensed that the end was near and were running down at full speed! Finally we reached the end of the trail. We were in Repulse Bay!
We checked our Strava app to learn that we had covered a good 15 kms and more! With renewed vigour combined with our sense of achievement we continued down the road all the way till we reached The Pulse.
The nice hot Chinese food – I had tofu while my son a full bowl of noodles was a soothing balm to the body and mind as we chatted amicably deciding our the next hike… one of the best way to keep kids busy over Chinese New Year holidays!
Comments
comments