"I want to become an author Mummy!" said my little 7-year old when he came home one day after doing a 'Story Writing' session at school. I just smiled at him saying "Sure! Why not?" knowing fully well that the new-found obsession would soon die a natural death just like most of his other one-night wonders! However he persisted and after a couple of weeks he asked me for some plain A4 sheets and a stapler! I was wondering what he was going to do with them when I saw him fold the sheets in half and staple them all together just like a mini booklet. I was impressed. "Now I am going to write a story," he declared and asked me not to disturb him as he sat down at the table and started to draw on the first sheet. I was quite amused but left him alone. To my surprise twenty minutes later we did have a semblance of a self-authored story!
That trend continued for quite sometime as his thoughts however far-fetched, his ideas however bizarre, his spellings and grammar – ah well… filled in page after page. His hurriedly written sentences turning into paragraphs which sometimes went as long as the entire page itself with an 'and' and an 'and' and yet another 'and' again. His handwriting was barely legible. If I would try to ask him anything he would look up blankly and then look back down and just continue writing, as if he was trying to keep up with his thoughts which seemed to attack him at the speed of lightening! I did not disturb him after that. That was also the first time I thought about getting him some formal training at Creative Writing.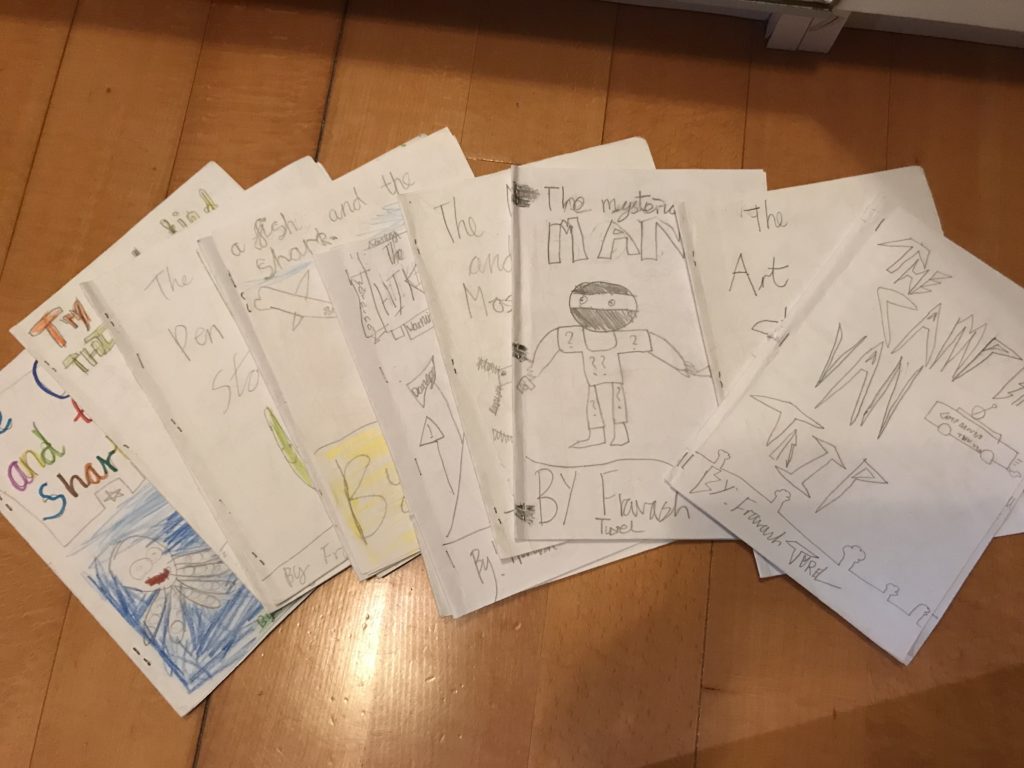 We did a couple of holiday classes here and there for fun, he even had a book "published," under his name, but nothing interested him as much as his self-authored books where words could cascade like a waterfall and where creativity had no boundaries! That was three years ago.
Now the writing bug doesn't bite too often, his creativity being spent on other things like playing his clarinet and going for his drama class. But then opportunity knocked once again when he brought home a leaflet about Faust's Holiday Creative Writing class over Chinese New Year! I thought this was a good chance at re-kindling the writing spirit and signed him up! Consistent with the Faust 'way-of-work' I received a prompt reply confirming our place and then an email reminder a week before the program giving a full program outline and some other logistic details. I really love this bit about Faust that they keep parents well-informed about their classes which is a big reassurance specially if my child was joining for the first time. Again on the first day of class everything was very well organised in a large meeting room where parents could wait while the friendly teachers took charge of different groups. My son was in a small group of five boys and felt completely at home as he's been doing the Faust drama class for the last two years, so this new CW class felt no different. He waved goodbye and started walking away and going by their excitement and loud banter I knew there was not going to be a single dull moment for the teacher. I waved back and happily stepped out to have my leisurely cup of coffee!
Four days just whizzed by with my son giving me some snippets and highlights of their work at the end of each day. Finally on the last day I got to see his actual work as the folder came home. I loved the little souvenir picture that we got of his class and also the individual feedback from his teacher. My favourite bit was "…..You have consistently done well over the four days and it has been great to see your positivity bring such great energy to the group!" Now that I can totally agree with this as even on my dullest days this boy always manages to perk me up with his positive energy! What really took me by surprise though was the amount of written work that they had done over the four days. I was amazed at how hard all the children must have worked and not too surprised at how a highly motivated teacher can bring out the best in children!
Faust is now coming up with their Easter Holiday Programs which I think is a great way to get a feel if your  child is unsure about starting a new activity. More information about the programs is on their website. http://faustworld.com. Good Luck!
Disclaimer: Please note that while this is a review written for Faust International Limited, the views given above are based solely on my own experience and reflect my personal thoughts and opinions. All photographs used are my own or sourced from Faust International Ltd. and are subject to copyright. 
Comments
comments