NEW YORK! The most exciting destination on our US itinerary for summer…for my boys especially as it was their first trip to the Big Apple City!
We landed in New Jersey (Newark airport) midnight on Thursday after a direct 15 hour flight from Hong Kong flying over the Pacific. A great range of in-flight movies to keep the kids busy and Cathay flight attendants who did their best to make us comfortable, so no complaints really.
It's great to have friends and family spread out all over the world. We stayed with close friends in New Jersey where I spent a restless first night – or actually just a few hours before dawn – my mind ticking on all the things that we had to cover in our short 3-day trip aiming at keeping the whole family happy!
Day 1 
We took the short 20 minute ferry ride from Jersey City (just outside the community where we were staying) to New York downtown. It was picturesque and gave us our first glimpse of Lady Liberty. Even from a distance the Statue of Liberty looked grand and we couldn't stop taking pics of her and the nearby Governor's island, Ellis and Staten Island.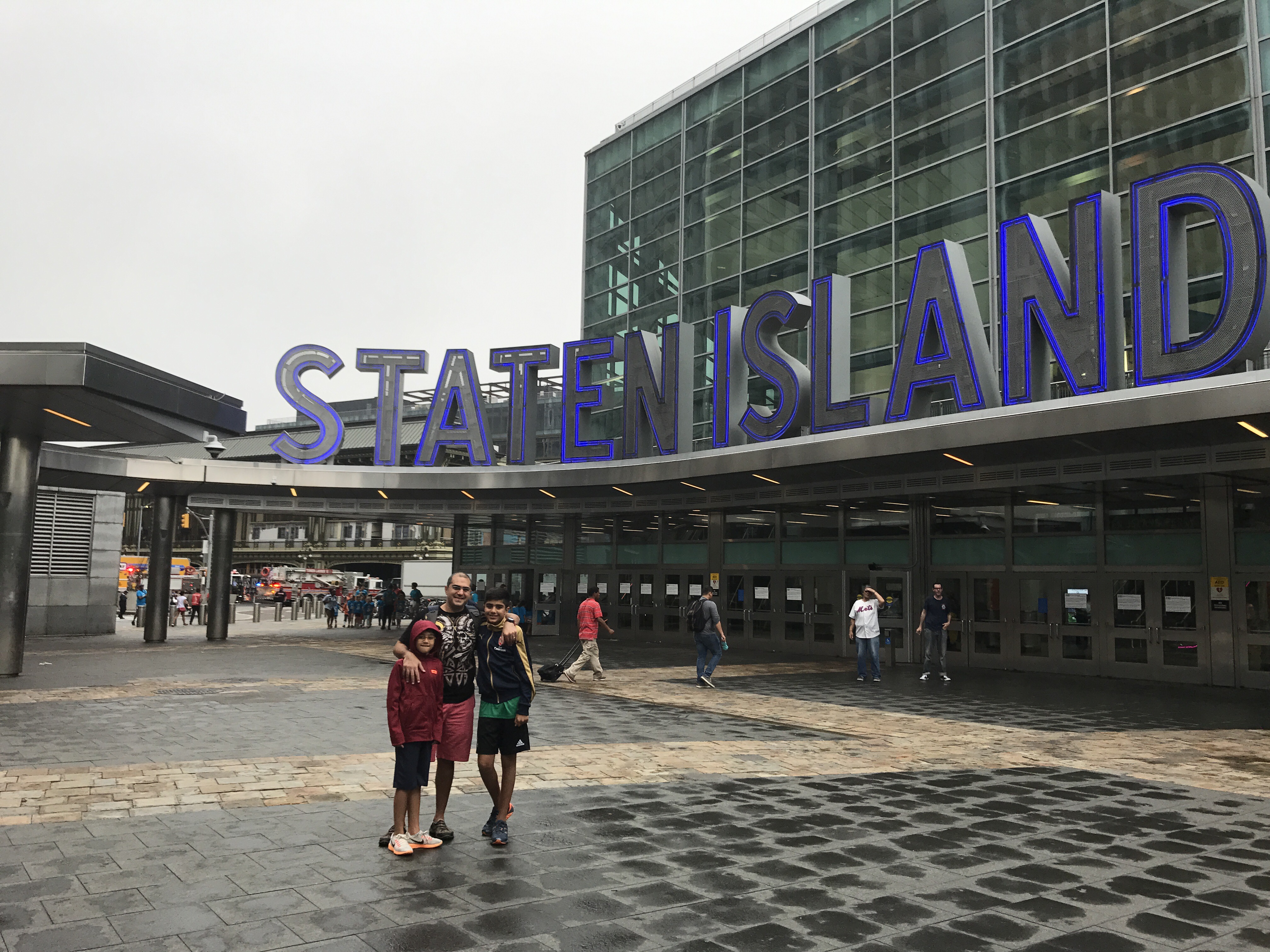 We landed just near the entrance of Staten Island ferry and while it would've been easy to take the FREE ferry ride that took one up close to the statue we left that for another day main reason being it was turning out to be a real wet day! We were only in our thin rain jackets which were not enough to protect us as the rain kept building up. After walking around the place we reached the Raging Bull that was mobbed by tourists, besides taking a few pics standing under the shelter of a nearby building, we couldn't do much.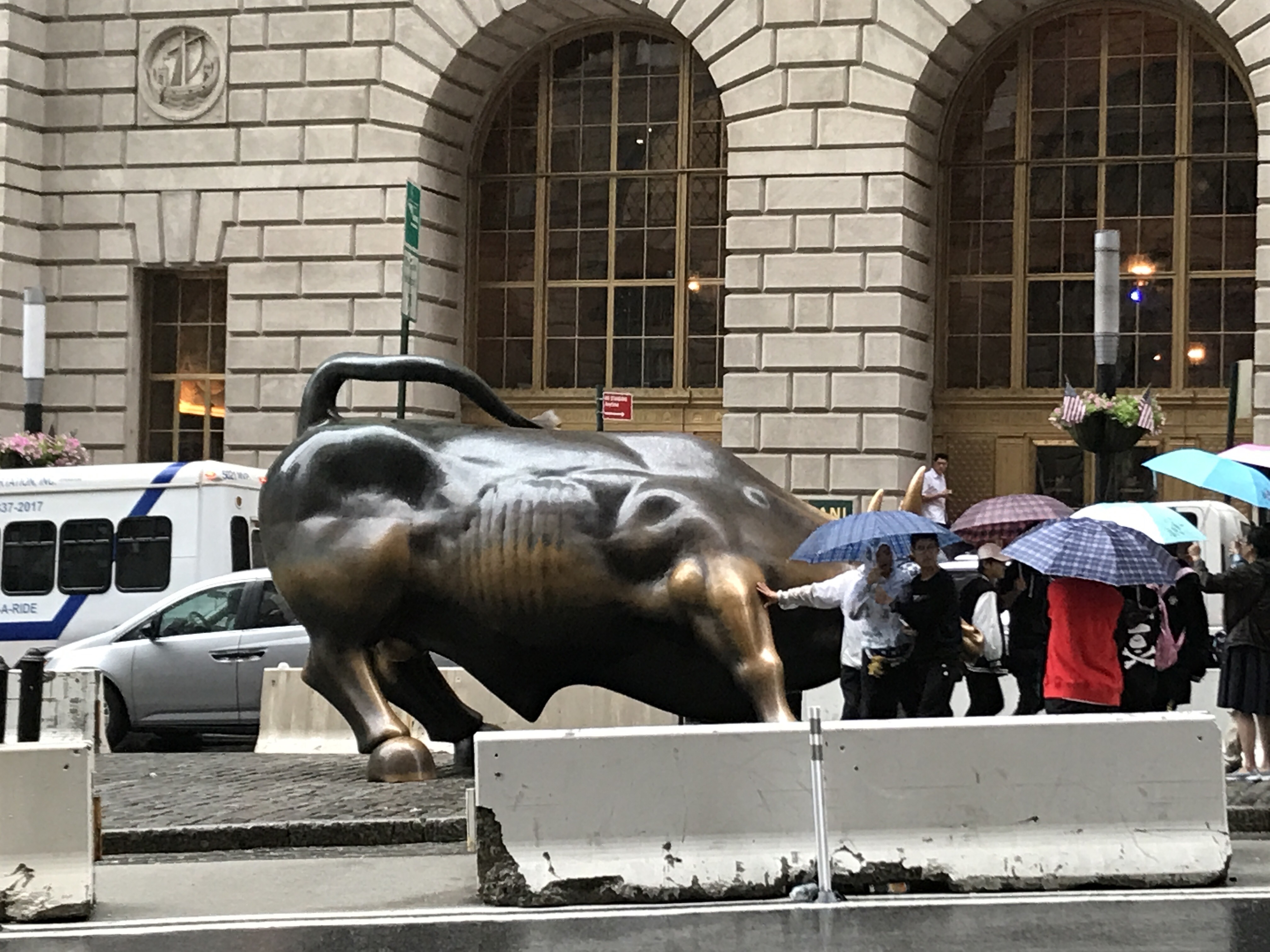 That's when we decided to take a Hop-on Hop-off bus. There are loads of agents in the area who work with different companies of the Hop-on Hop-off buses. There's Big Bus Tours, City Sight Seeing Tour (GreyLine). We opted for the latter and after a tiring hour of bargaining on the price with one of the rain soaked agents we bought our tickets including some free city sights plus an additional inclusion to see the Empire State Building from the top. We thought it was a good deal ($336 for 2 adults and 2 kids) but in retrospect the New York City pass apparently gives a better deal with more discounts -point to be noted for any future trips to NYC.  It was still raining when we had to wait for the next bus and the free rain cover handed out by the bus company was most appreciated. We  began our bus ride from downtown to mid town covering iconic places and buildings that we'd heard about! The visibility wasn't so good thanks to the gloomy rainy weather and I would give a 2/5 star rating to the bus guide who seemed to be mumbling rather than talking but it was really the best that we could do that morning. It was a good 40 minutes before our intended stop – Rockefeller Centre where I was meeting an old school friend. Thankfully the rain stopped when we got off but we were still a bit wet with our soaking shoes and socks so while the kids went to explore the huge Lego Store with thousands of lego pieces to play with, I stood outside trying to get dry in the sun!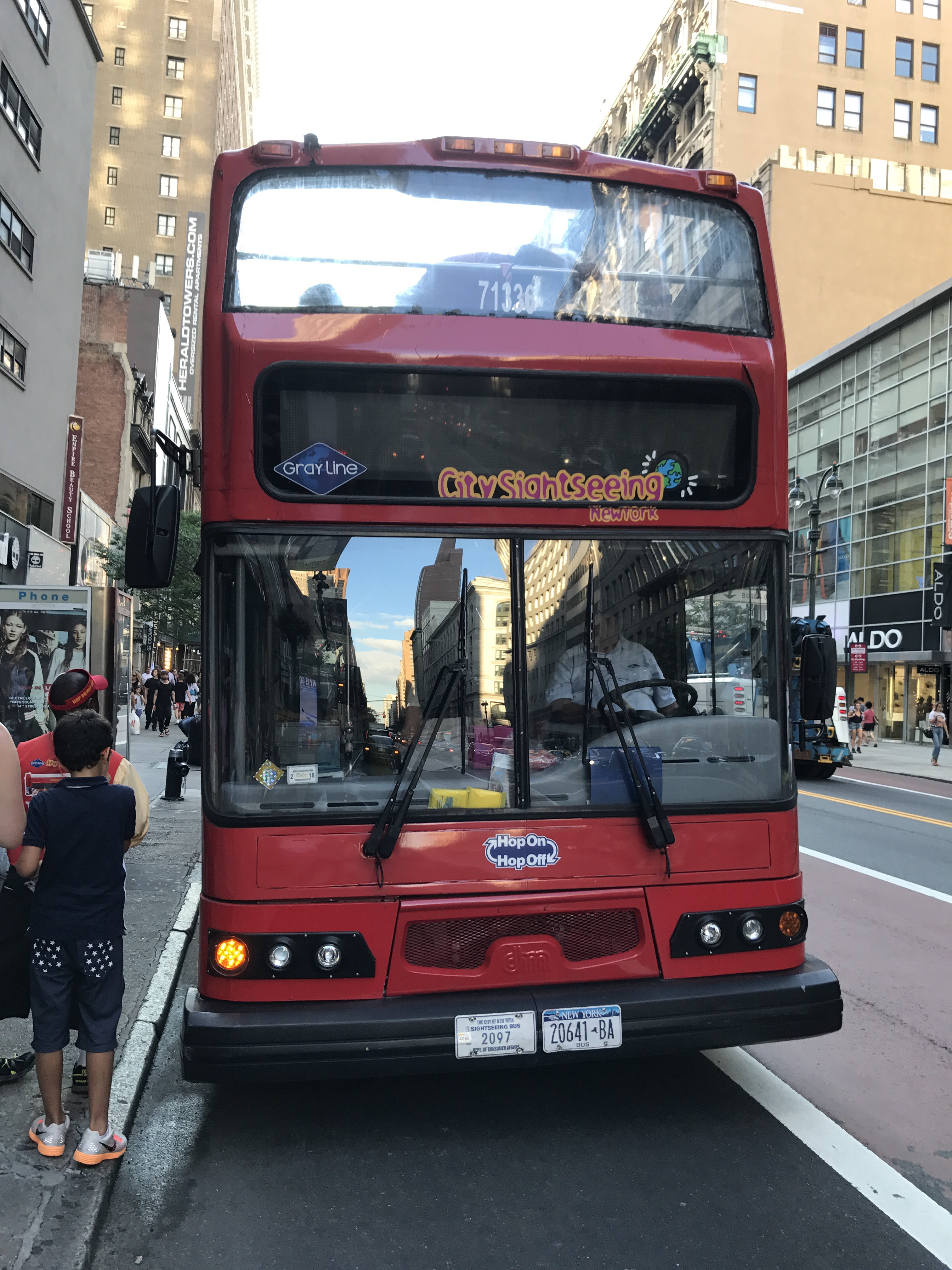 We then walked towards Bryant Park. I loved walking through the busy bustling streets filled with throngs of tourist, noisy food carts, street performers, souvenir shops and office goers who might have stepped out for lunch – it looked like any other busy bustling city – Hong Kong, Mumbai, New York all the same -people from different nationalities, countries and cultures – fast-paced, vibrant, garish – a city living on the edge!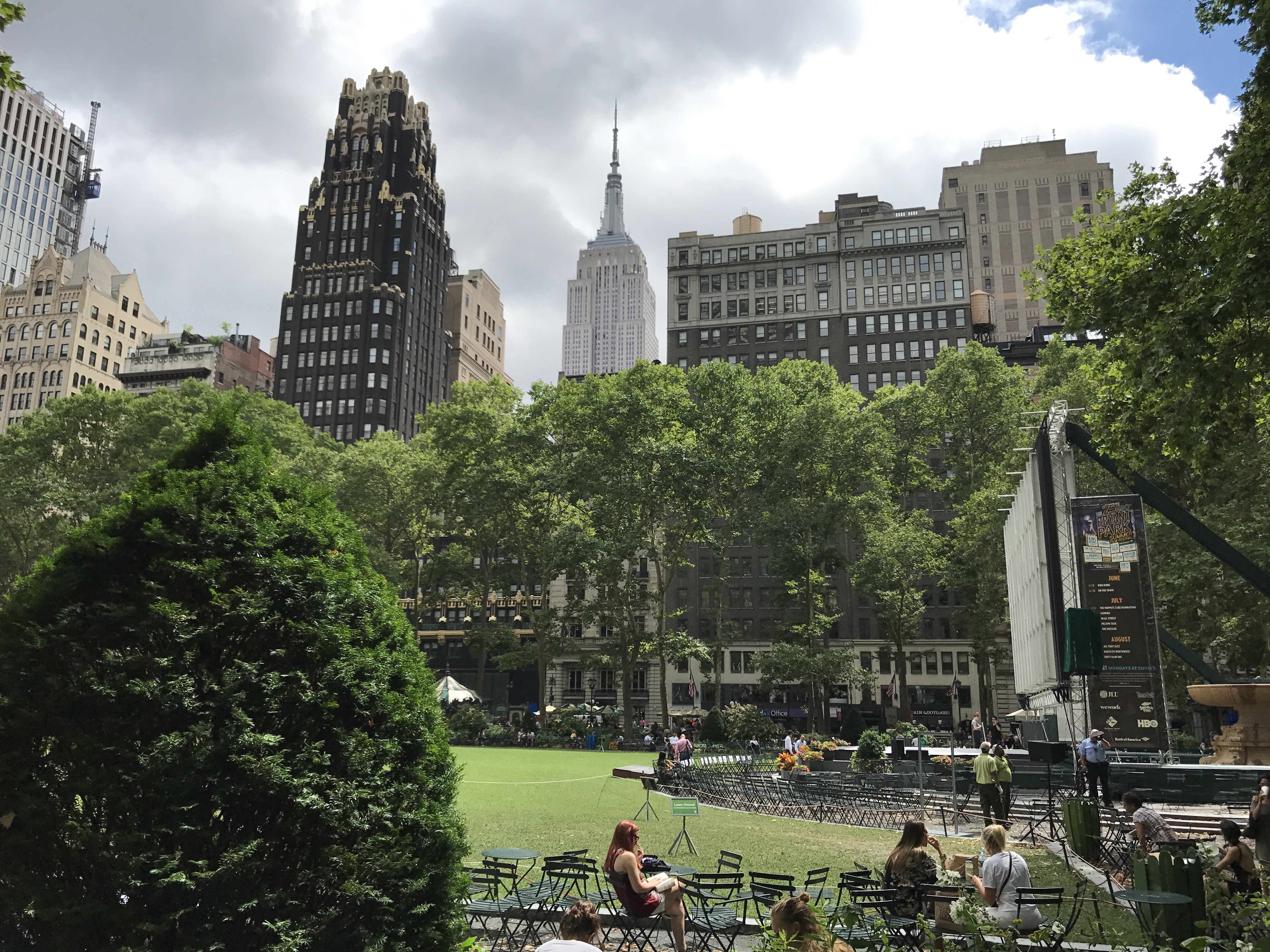 Bryant Park was the perfect spot to sit and have a little picnic taking in all the sights and sounds. It was nice to catch up with an old friend specially so when the hubbies and the kids get paired up too!
After a relaxed hour or two we said our Good byes and headed towards the Empire State Building – a historic landmark seen in movies and comics that the kids wanted to see! There was a massive security queue followed by a ticket queue which we thankfully escaped as we had our pre-paid tickets through the City Sight seeing Tours. Nevertheless it was still very crowded and after the morning downpour it suddenly turned out to be a hot sunny day which wasn't much appreciated when you're up close to the sky! The views were fantastic though and using the telescope we tried to spot the famous iconic buildings in the city – at least the ones we knew of. This was my second visit to the Empire State Building but I was still in awe of the architecture and specially to read about the eco-friendly systems that the building used for ventilation and heating and other interesting facts on the restoration and refushbishment – a big lesson to learn for other cities as we are constantly depleting our natural resources though our thoughtless ways. On the way down my son who is absolutely fascinated with tall buildings picked up a building replica which was not quite cheap and to add to my post purchase dissonance, which we found by the dozen in the roadside souvenir shop down the road, at half-price!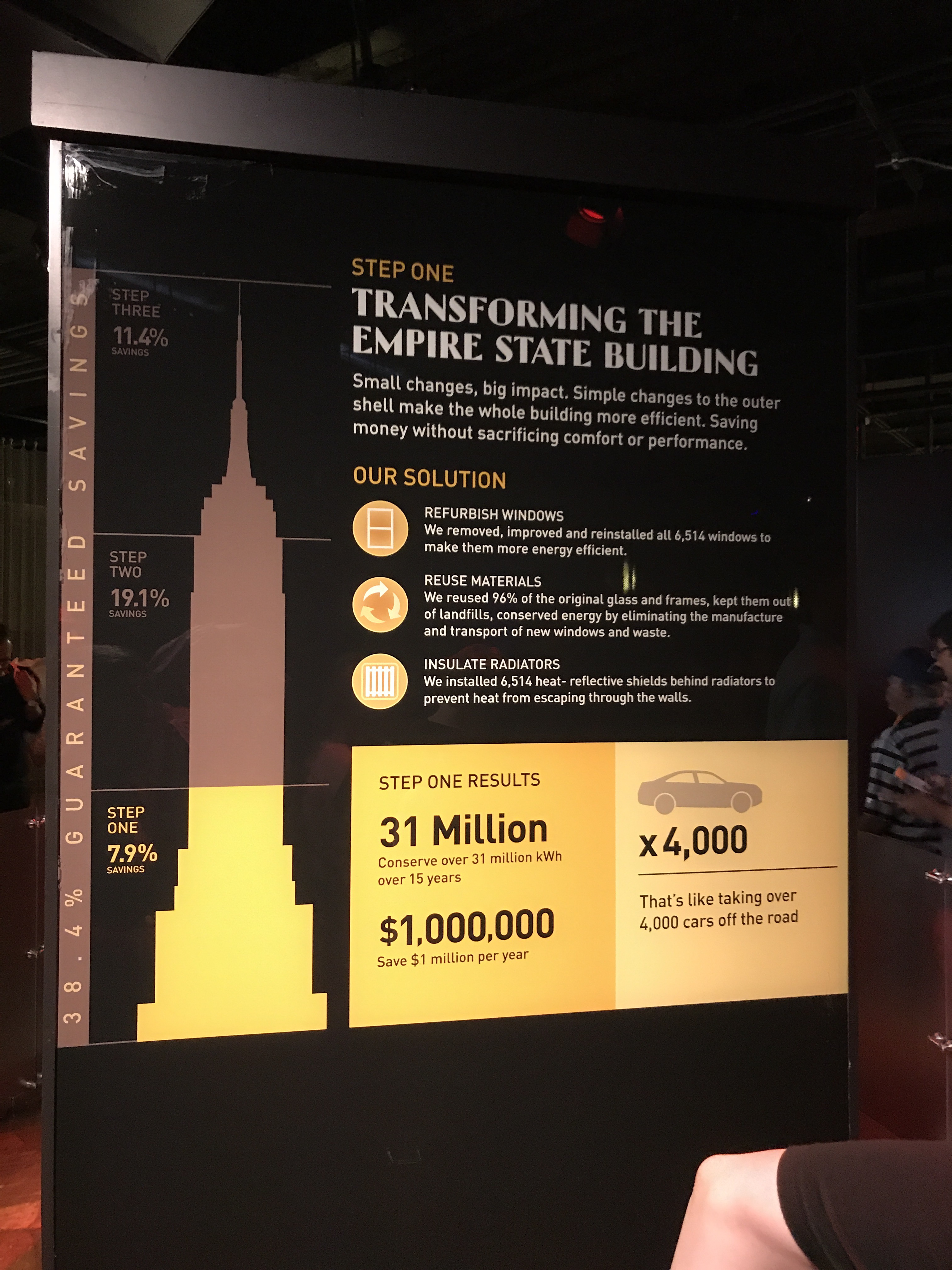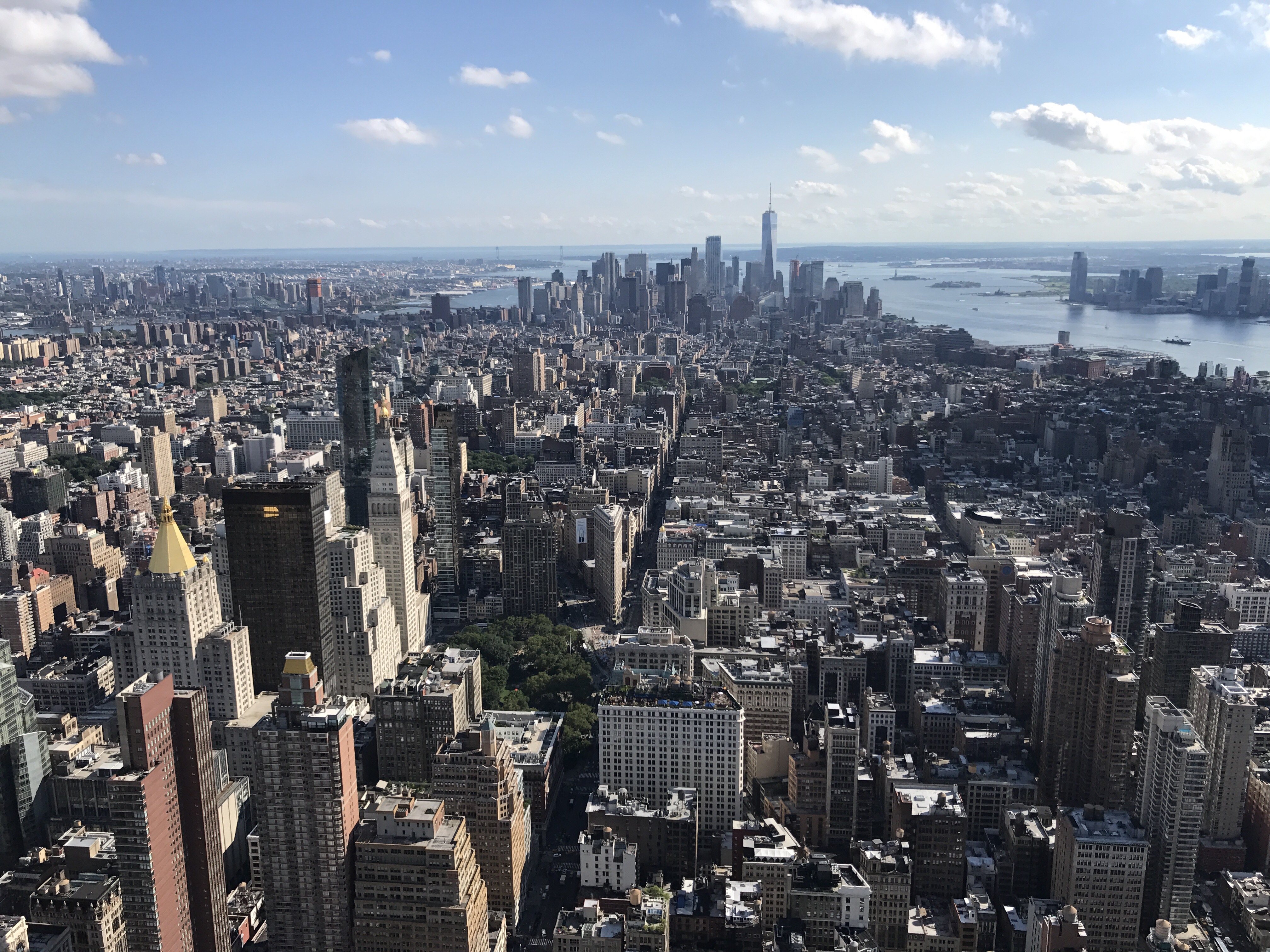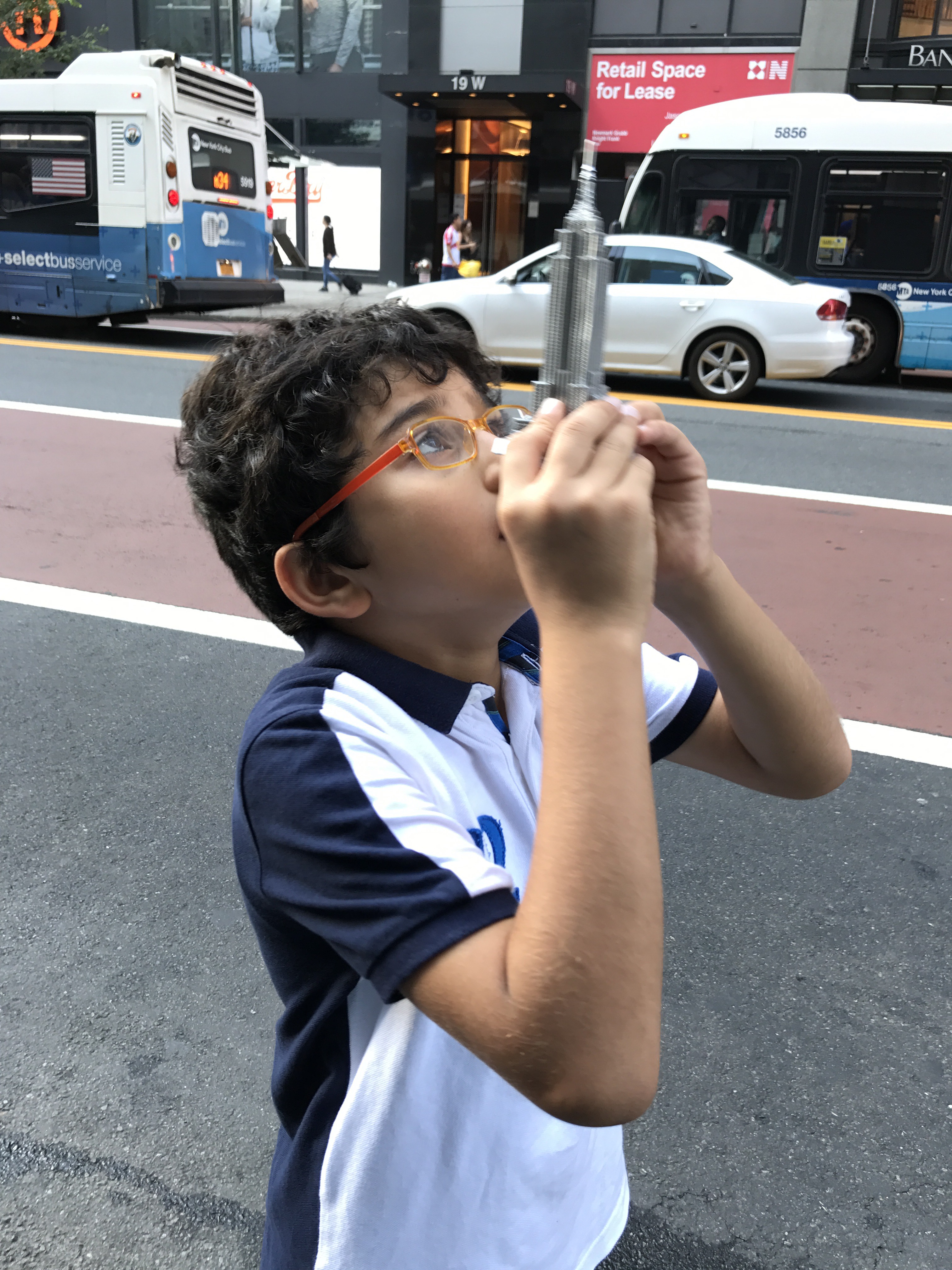 I think the jet lag finally hit us when we 'Hopped-in' to the next available bus going back downtown. We were meeting our cousins there. The top deck with the breeze blowing seemed a lovely place to take a short nap while listening to the bus guide taking us through another lane of iconic buildings. This time I would give the guide a 4/5 as she gave us much better understanding of the historical significance of our neighbourhood.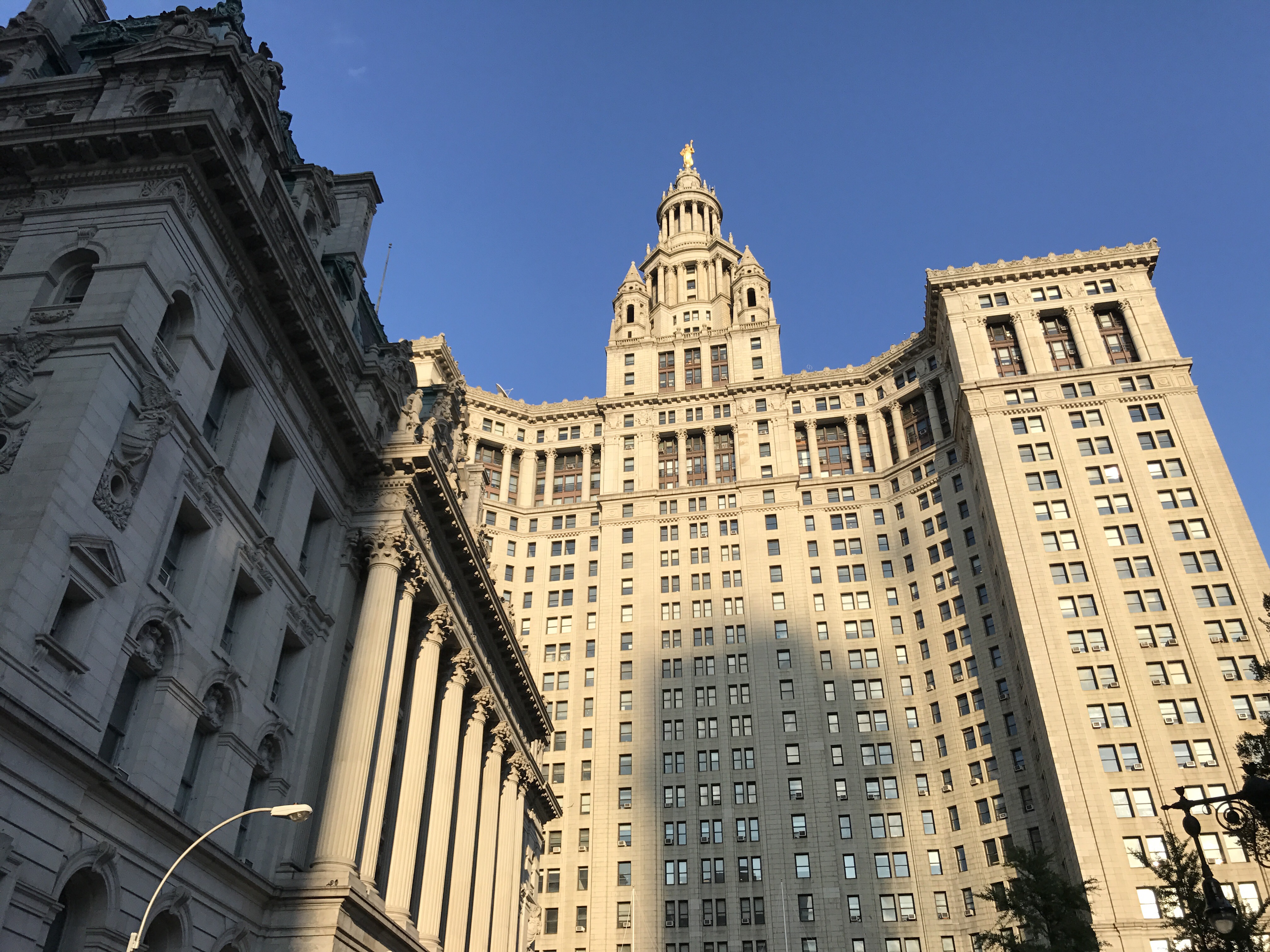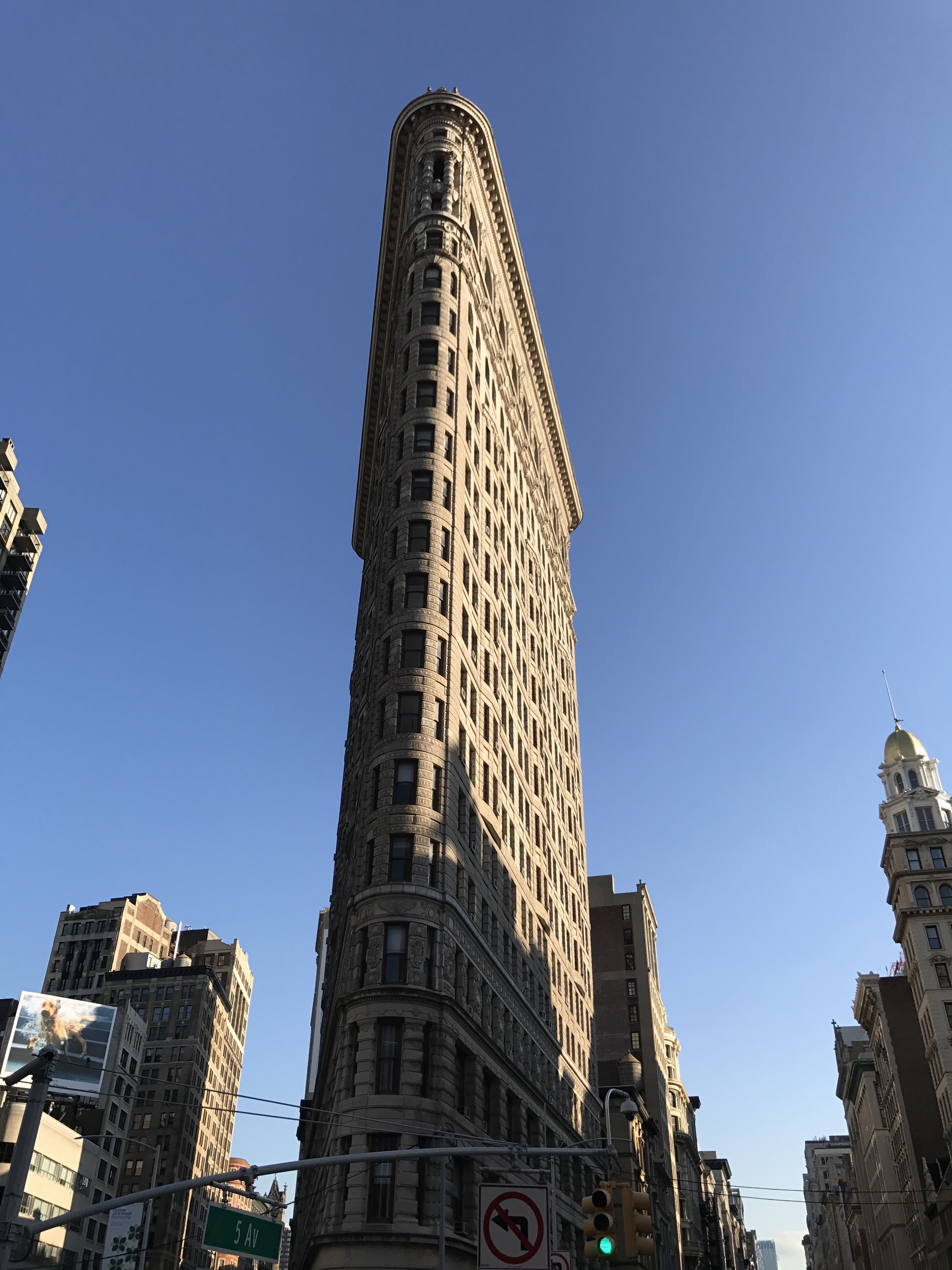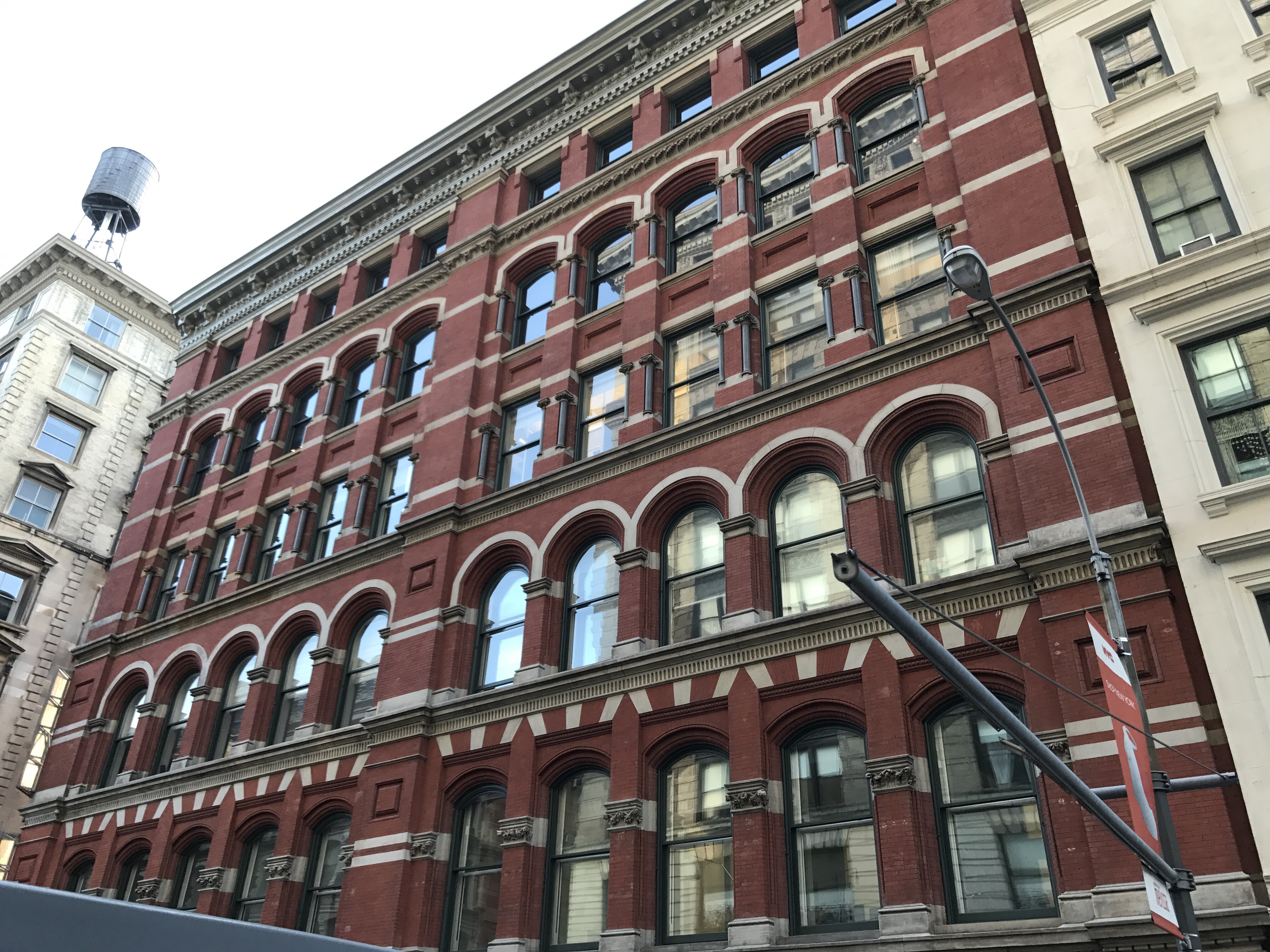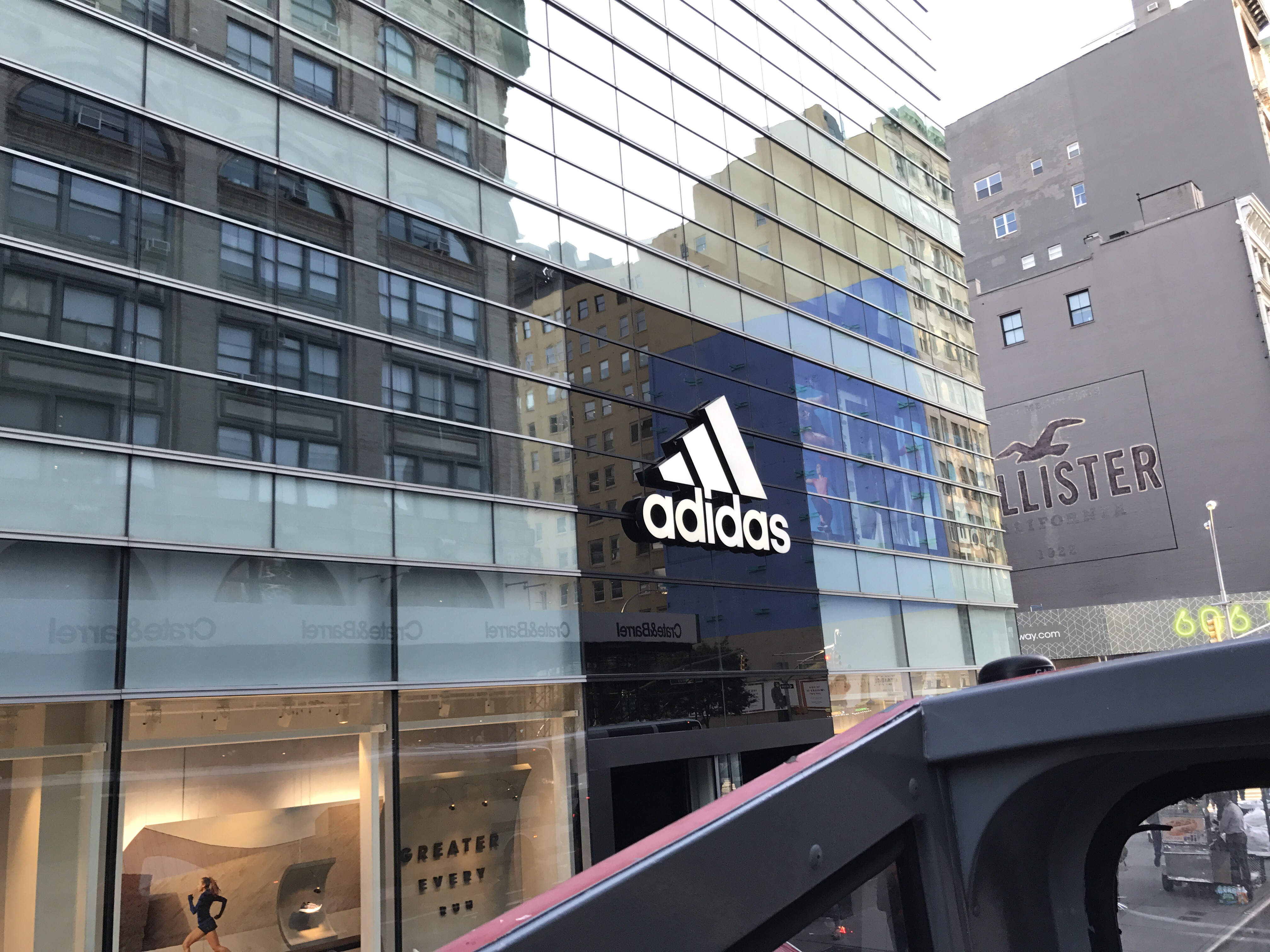 Dinner was fun at a food court with friends and family and then we took the tube and headed back home, oh not before getting wet once again in New York rain!

Day 3
This time we planned to start the day with the iconic figure of New York – Statue of Liberty! Having learnt the evening before that tickets to see this monument have to be purchased 6 months in advance for the 'crown' and at least 2 days in advance for the 'pedestal' we decided to avoid the crowd and compensate this tardiness with a thrilling ride to see the statue! Aptly called 'The Beast' this speedboat/hovercraft mix travels at break-neck speed with loud music playing, charging up adrenaline and lifting up our spirits as it carried us and the other tourists from ferry pier no 83 till Lady Liberty. Our friendly guide+photographer kept us entertained not only with well researched information on the sights around us but also by splashing water using his giant water gun on unaware kids and adults letting out shrieks and giggles of joy! The boat halted right before the statue for us to take photos and then took off once again swerving on both sides spraying up sea water on more than delighted kids. Thank goodness it was a sunny day as both my boys were sprayed quite effectively.  I highly recommend doing this ride if you have older kids. ​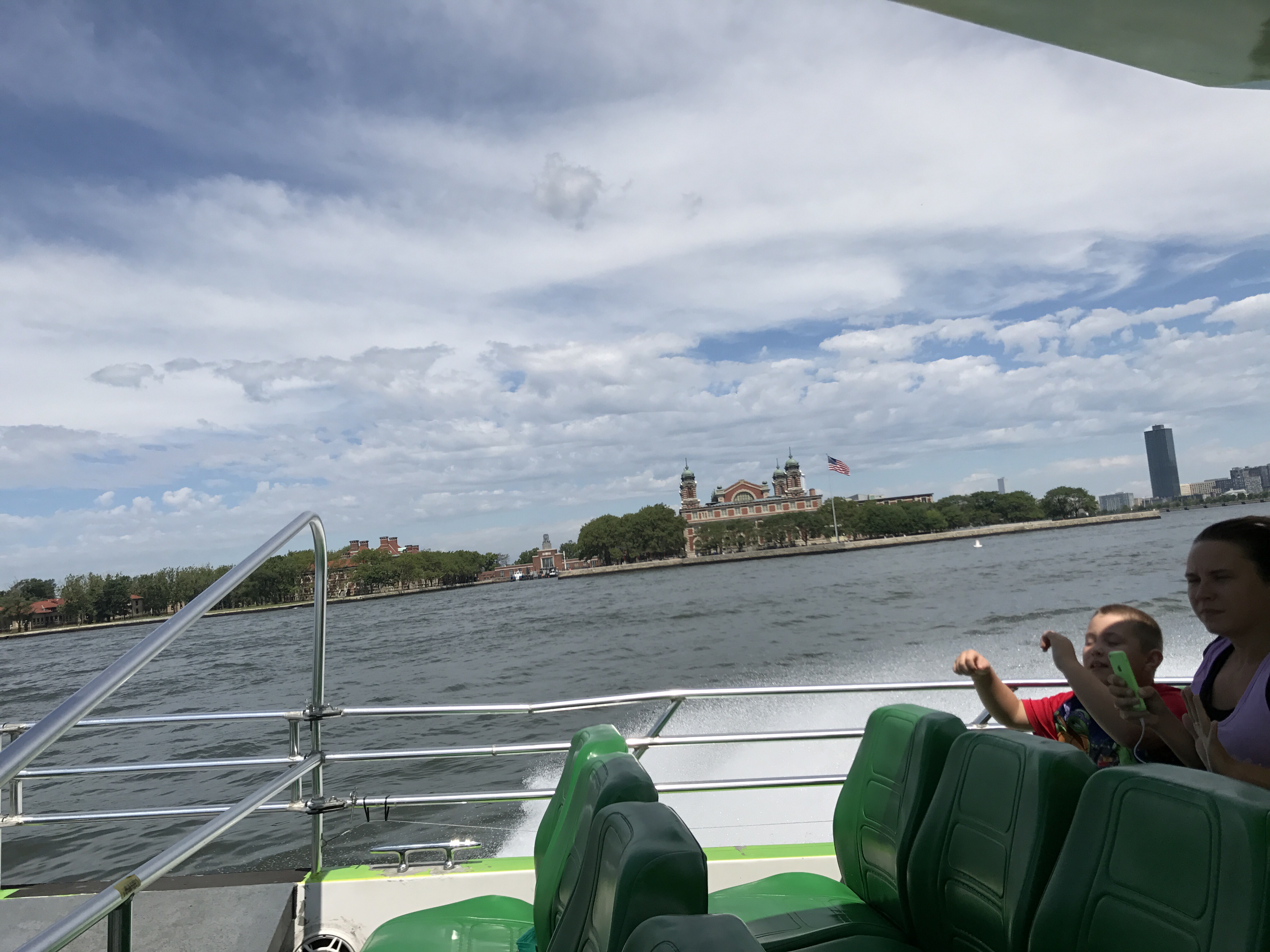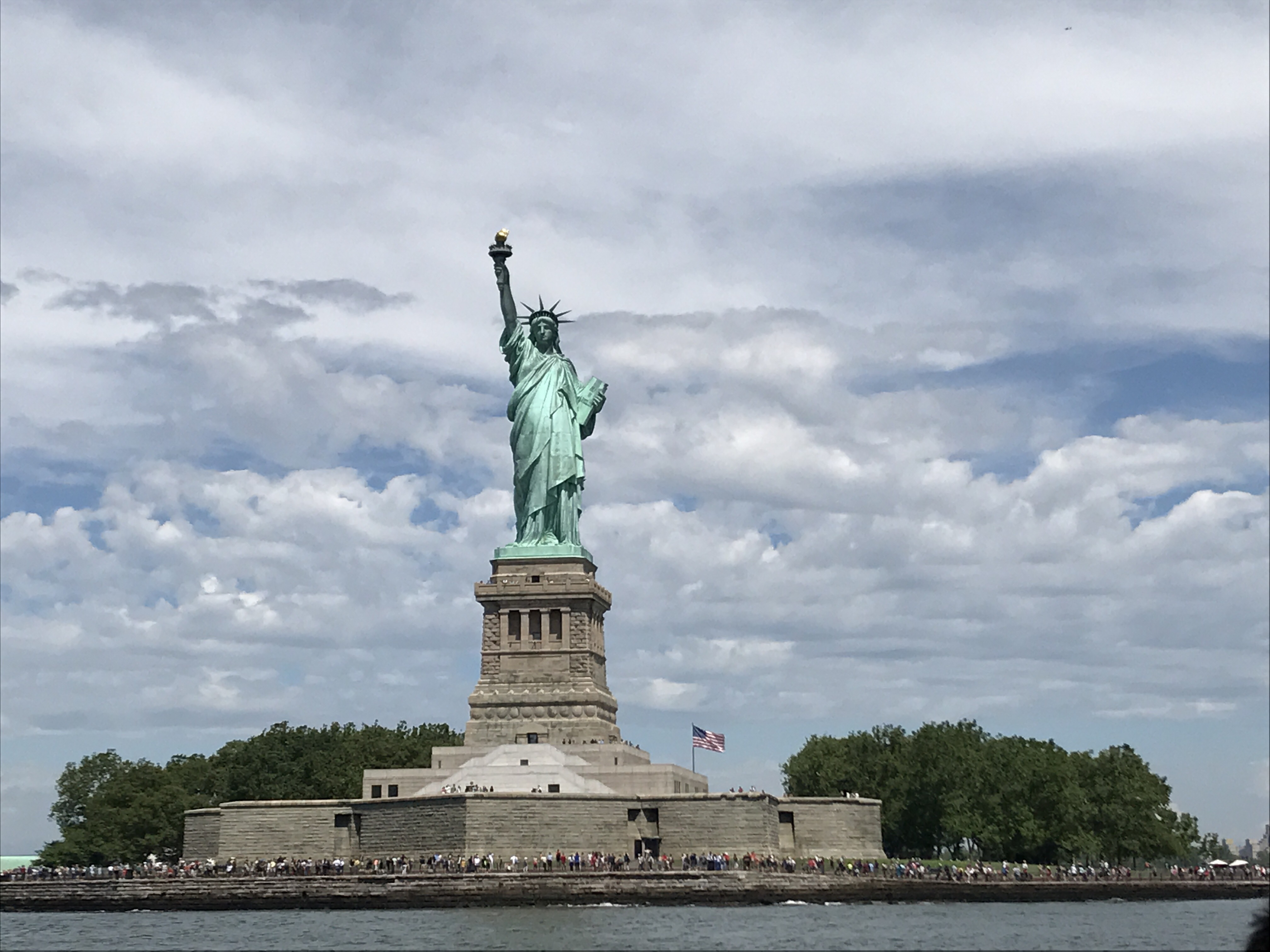 A short ferry ride from a nearby pier took us to another port which led us to our 'Hop-on Hop-off' connecting bus. Oh but not before we finished our stationery shopping at the Staples! I had promised the boys new stationery and pencil cases for their new academic year…what better way to findly remember their American trip year-long! We left the store happy with our colourful pencils, cases, erasers, sharpeners, calculator, compass and oh even glue sticks!
Our next stop was Central Park! I was really looking forward to this one as Madagascar was one of my favourite movies with the kids and I wanted to see where Alex and Marty lived! It's a different thing that we didn't end up going to the zoo as we spent our time bicycling around the park! Meeting my friend and cousin was an added bonus. It's a lovely break to take in the midst of greens in fast-paced NY. I wish we had more time to see more of the park and zoo but we had to leave. So after feeding the ducks, turtles and fish the remaining if our sandwiches we headed to our next point of interest – the Grand Central Station!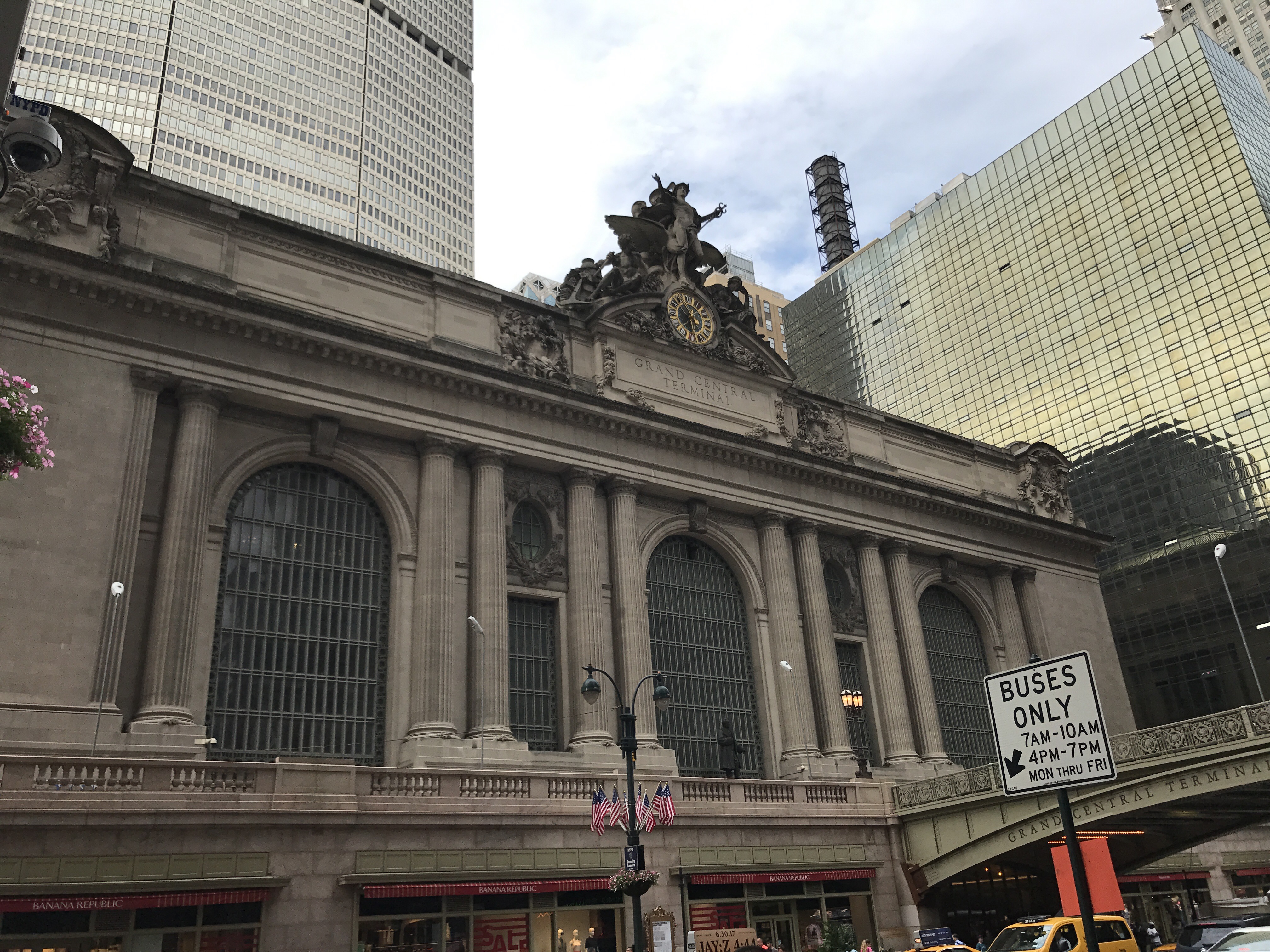 It was beautiful! And looked even grander than it did in films! The ornate carvings, the high ceilings, it was amazing to see everything restored and spotless clean! After taking a good number of photographs from all different angles and taking in all the history associated to this building we took the tube to Times Square.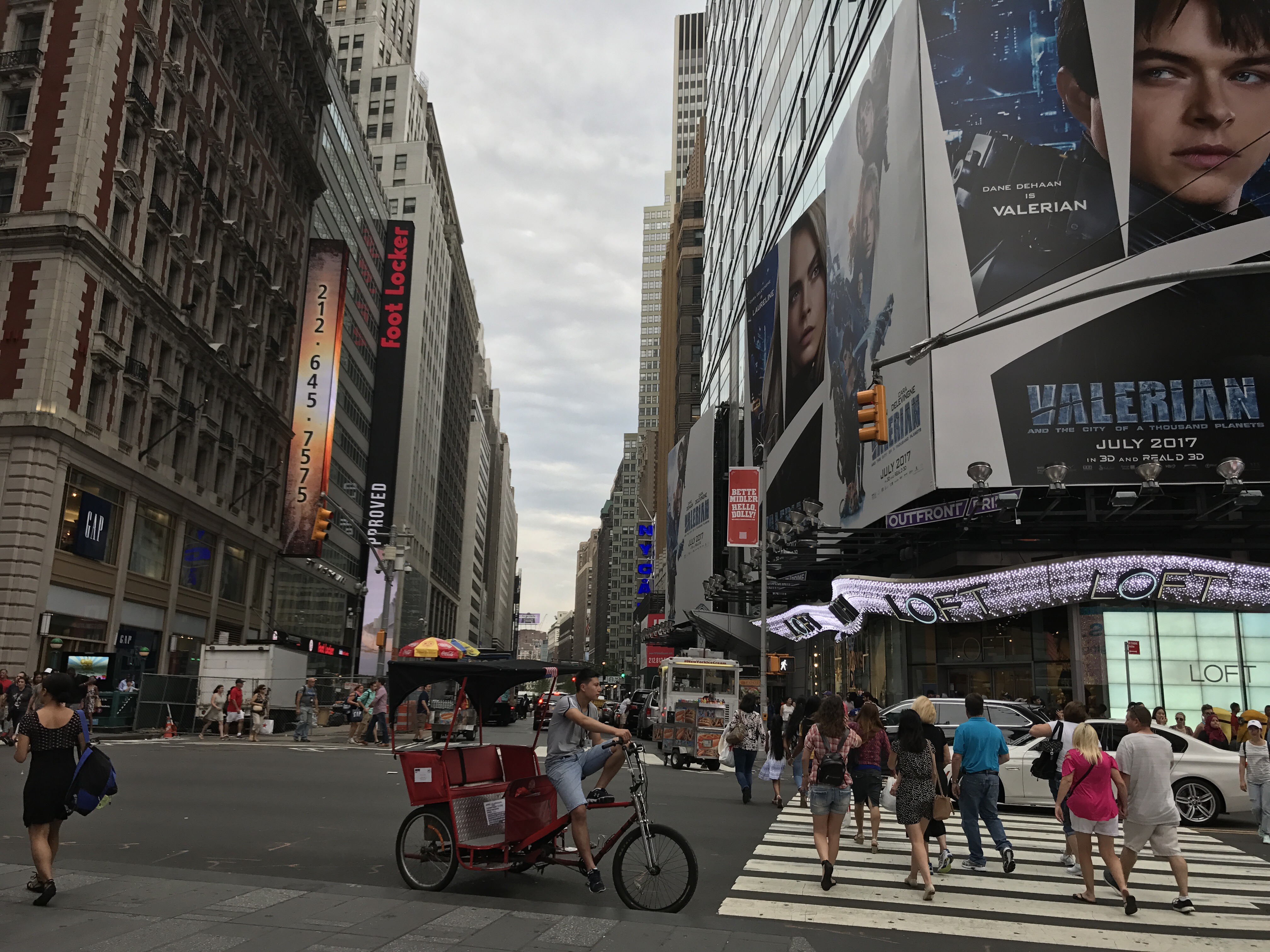 I could see why our cousins were not too happy about going to Times Square as a massive crowd engulfed us the minute we stepped out of the tube station. The giant illuminated billboards, the neon signs, the traffic, the chaos were all reminiscent of our own Times Square in Causeway Bay, HK, honestly not my favourite place to go! We spent a while walking through the crowds holding on tight to the kids' hands lest they merge in with the crowd, watching entertainers and trying not to bump into selfie-maniacs who randomly stopped just about anywhere to take pics!
Our last stop was a Lebanese joint – small joint that served authentic cuisine. And the lack of ambience was made up by the excellent quality of food as we popped fresh hummus with pita bread into our mouths! The highlight of the day was yet to come in the form of melting chocolate at Max Brenner's Chocolate Factory in Union Square. My son was delighted with his melted chocolate crepe filled with marsh mellows and cream and might have even have had chocolate shots served in syringes had he not been utterly full!
Day 3
I woke up early deciding to take a quick morning jog and burn some calories that I was quickly gaining on this trip. It was a beautiful sunny morning and I thoroughly enjoyed my run taking pics everywhere!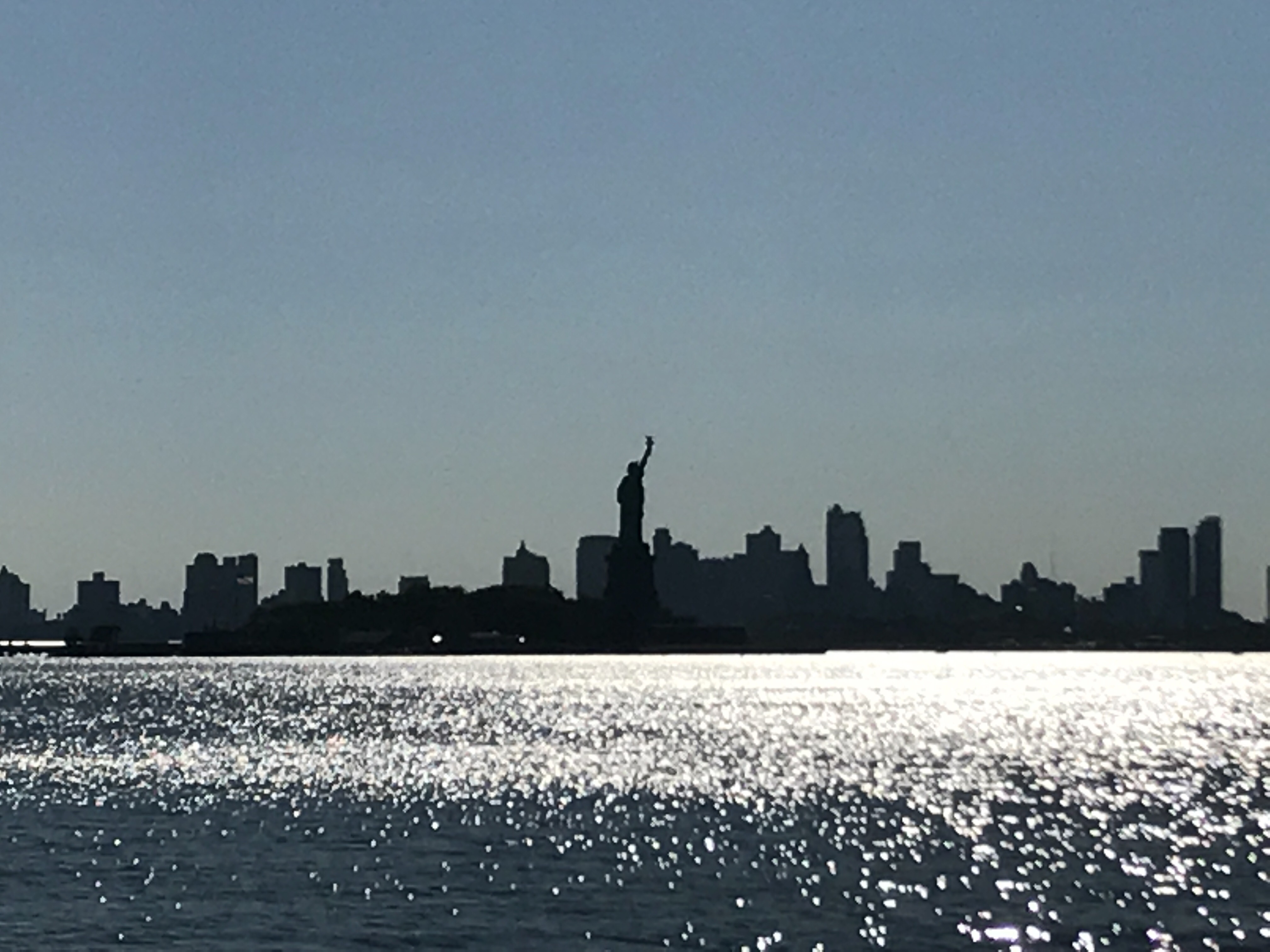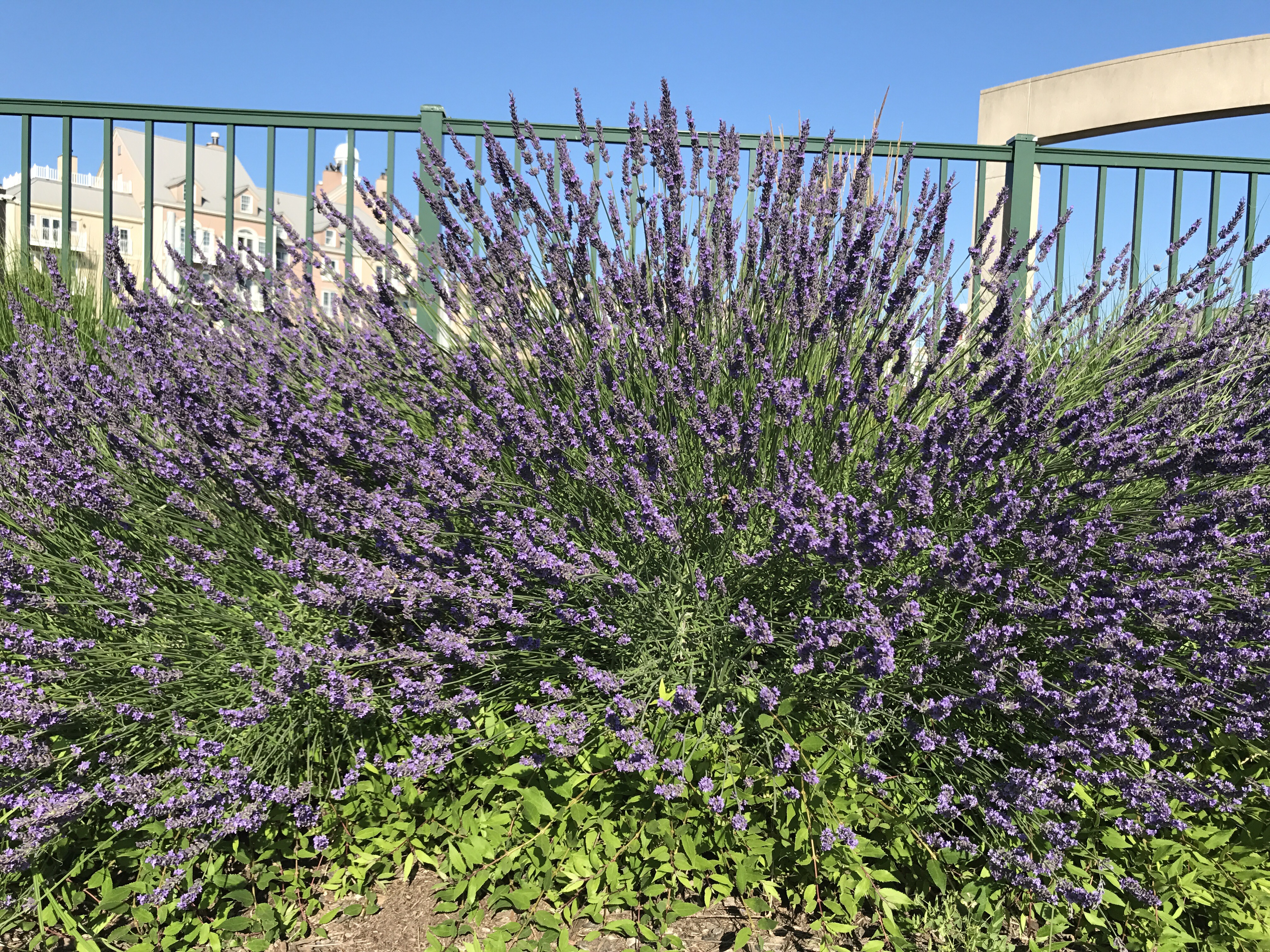 We spent a relaxed morning eating a delicious Parsi breakfast served by our wonderful hosts! We then went shopping together to a nearby outlet mall for some retail therapy in tax-free New Jersey. Branded shoes, t-shirts, shorts and even a business suit were bought and soon our shopping cart which was actually in the shape of a police car for my friend's little boy was full to the brim! Thankfully that little boy who had been on his best behaviour the whole day which was amazing, thankfully gave us an alarm signal as he started feeling sleepy and that put an end to the endless shopping. My boys were only too happy to head back home to a 'traditional' burger dinner!
And that brought us to the end of our 3 days in New York. 3 days are just enough to cover the "essentials" I would say though you must be a master at planning everything being prepared for traffic, long queues and rain!
Here are some of our trip highlights. Do keep in mind that we were travelling as a family with 9 and 13 year old boys.
Must-dos
– The Beast speedboat ride from Pier 83
– Top of the Empire State Building
– bicycling in Central Park
– Max Brenner's Chocolate Factory
– Hop-on Hop-off bus
Here's also a list of things we should've covered had we planned everything to perfection.
To-do for next visit
– Statue of Liberty visit
– Night tour on Hop-on Hop-off bus
– Central Park zoo
– Top of Freedom Tower
Hugs and goodbyes to friends and family as we got ready to start our 4-night 5-days US Roadtrip traversing 7 States and 5 destinations. Stay tuned for more!
Comments
comments