So here we are…at the very end of our Easter holiday…having had a great workout session at the gym this morning to awaken those sluggish muscles, followed by a sumptuous breakfast from the wonderful buffet spread, soaking in the warm service provided by the resort staff who seem to genuinely mean when they say a "Good Morning" or "Have a nice day" or "Thank you M'am" with a smile that reaches their eyes and a hand on their heart  – Cebu style… playing a slow game of chess while we wait for the last few hours to melt away. We are staying at the Crimson Resort & Spa Mactan Island Cebu, Philippines where life could get dangerously slow and lazy with the sun, sea and sand.
I'm sure we would've been in that slothful state for the entire duration of our holiday had it not been for our kids! Thank God for older children atleast that way we dragged ourselves out from this beautiful paradise to enjoy outdoor adventure activities which are in abundance in this region!
Aged 13 and 9, my boys, having had their share of the private villa pool, the white sand beach, the infinity pools and the glorious sunsets, were searching for something more. Either an adrenaline rush or getting glued to the TV so we thought it best to go for the former. Trip Advisor always works best when it comes to finding out the best 'things to do' depending on the level of interest and adventure. And here's what we did-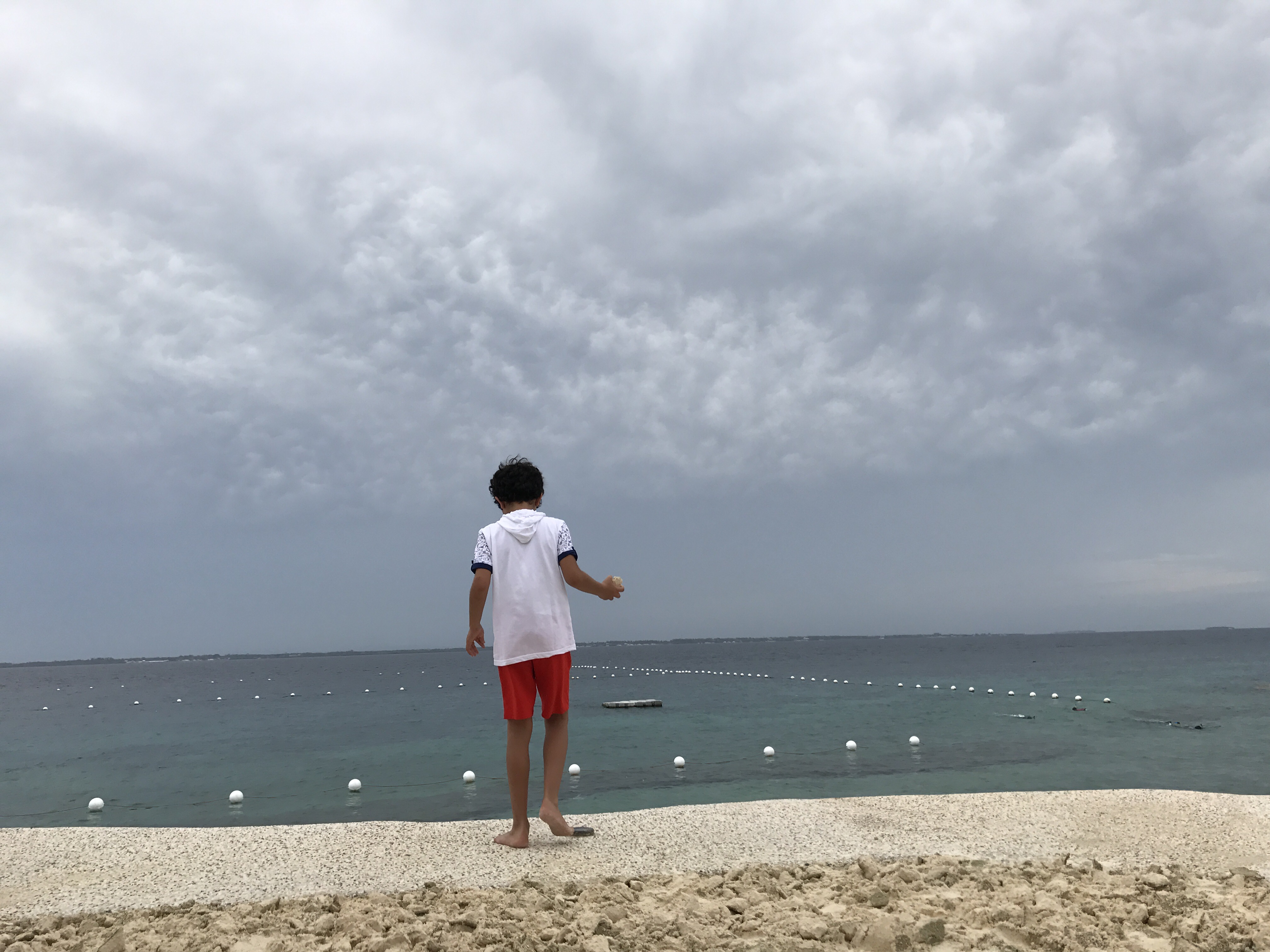 Day 1: Tuesday
We landed in Cebu – a direct flight from Hong Kong at around 11 in the morning and were transferred to the resort in just a 20 minute drive by a very friendly and chatty chauffeur. Not the best day weather-wise…it was raining, as the hotel's little buggy (golf cart) drove us through the manicured lawns of the resort upto our beautiful villa which had a private pool that kept my boys busy and happy!
Day 2: Wednesday
The weather got better and after a few morning showers we were greeted by Mr. Sun smiling down upon us! The resort had a lovely private beach and two swimming pools and once the heat got about out of hand, the boys cooled down in CrimZone -the Kids Activity Zone. They were surely a bit older for their activities but the movie zone with plush beanbags and a blanket kept them happy and comfortable.
Day 3: Thursday
Scuba diving day! My husband and my elder son were thrilled about becoming 'professional divers' and my younger son and I tagged along needing something active to do besides just being together. We did the basic 'Discovery Dive' as they call it with the best scuba diving agency (S K Divers Centre) in Cebu and I was so thankful that we chose them over everyone else and here's why – Sebastian our lead instructor who came to meet us at the hotel the evening before to explain everything clearly about the dive and what entailed, was extremely patient, specially with my 9- year old who wasn't too comfortable wearing a mask and breathing under water at first. While we were being trained in the swimming pool I thought Sebastian was going to give up as his patience level was tried and tested when he tried to give instructions to my very active and inquisitive son. "What happens if we finish all the air in the cylinder?" "What is this pipe for?" "What happens if I don't want to dive once we get there?" were just a few from a barrage of questions thrown by my son as he bounced up and down in the pool, fiddling around with his diving gadgets. At one point in time I just thought we'd call it off as I felt he wasn't getting comfortable and didn't want any inquisitiveness in the open sea. Sebastian laughed, joked with him and lo behold 20 minutes later, wearing his fins, my son was swimming in the pool like a real pro diver! Once in the open water it wasn't him but I who needed special care and attention, as I being under the water and having my life dependent on an external apparatus gave me the goose bumps! I kept showing the 'thumbs up' sign that we had learnt indicating that I wanted to return to the surface every few minutes! Thankfully my older boy and hubby were swimming with a different diving instructor so their fun was not spoilt. Once again Sebastian came to the rescue by being very patient and understanding, and while I was getting embarrassed acting like a wimp, he asked my son to hold my hand which was a life saver, as he guided us along. My son was such a sweetheart too as I knew he was getting confident and wanted to try out the depths but held back just to support me. Actually the underwater was a beautiful place with a variety of fish swimming past and apparently a water snake too which thankfully I didn't see! At the end of our thirty minute dive I was just happy to find my feet back on the ground while my excited family couldn't stop taking about the sights and the life underneath! I really thank Sebastian and his co-instructor for taking such good care of all of us and to give us this wonderful opportunity to experience scuba diving in a safe and friendly way.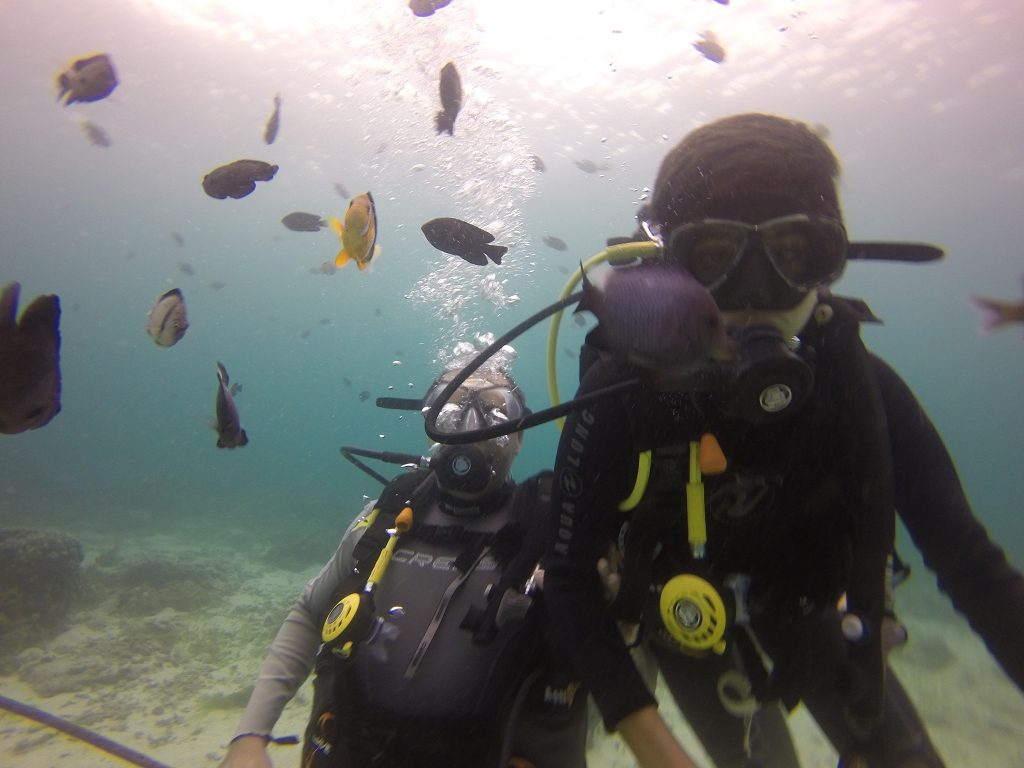 Day 4: Friday
We woke up at 4 am to begin our journey going to Oslob for our planned swimming with the whales-sharks! We booked this activity through Island Trek Tours as recommended by a friend and we were super satisfied with the service provided. Our friendly driver who drove at a good yet safe pace, our charming guides in Oslob and the fresh healthy meals provided certainly left us with happy memories. The actual activity of whale-shark watching/swimming was quite well organised and lasted for thirty minutes and while my older son and husband decided to swim with them, my younger boy and I were content to watch the show from the safety of our boat! It was amazing how gentle the giants were and while I was happy to be dry, I certainly missed being accidentally touched by the whales who as they described felt nothing like a slimy fish, instead more like a coarser version of human skin! Apparently this activity is run by the Cebu government where a few registered boatmen are allowed to feed the visiting whale sharks and visitors like us are allowed to get off the boat and take pictures with the whale keeping a safe distance. We saw at least 6-7 whales at the same time and were told that as many as 20 come at times! My boy who was in the water was thoroughly enjoying the experience till one of the huge mammals came straight at him and while he froze and couldn't stop staring at what was about to happen, my husband kept saying "Smile smile smile" as he continued taking pictures with the rented GoPro camera! The result – the whale just swam on, lightly brushing my son and we got fantastic pictures which I'm sure someone is going to boast about at school! After that experience and a wonderful lunch we headed to Kawasan waterfalls which was an hour's drive away. Again here we were met by our tour guide who took us for a short walk till the mouth of the waterfall where we happily jumped into the fresh, crisp water which awakened our senses and soothed our hot sun burns. There is something about swimming in a naturally made pool of water hearing the loud roar of the water fall next to us. We had to wait to hire a giant raft which took us right underneath the fall! While the wait was quite long as there were a lot of tourists it was indeed worth it as we screamed with joy as our bodies got thoroughly massaged by the falling water which was relentless and pretty strong! An hour later we headed back to our car after a bit of souvenir shopping from the shacks nearby. This was the real Philippines with their small huts, wood fire, stray dogs, pet cats and roosters which they use for fights and gambling! While staying at a luxury resort gives you a sense of peace all enveloped in attention and care, I was happy that the boys got to see this side of the country too.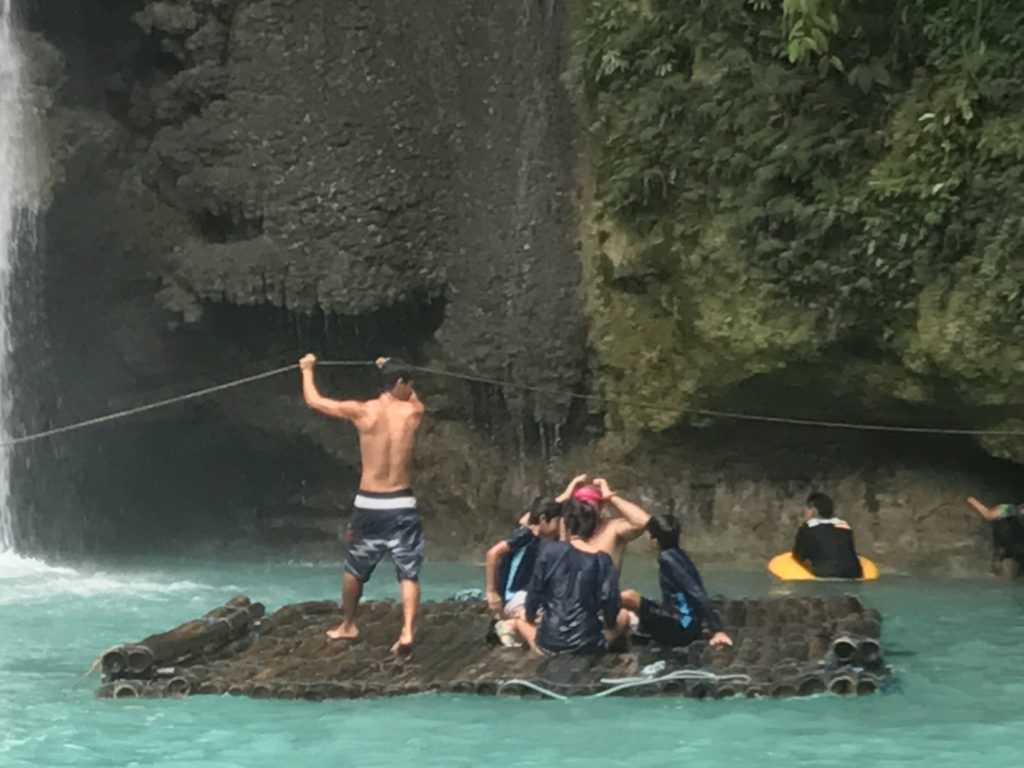 Day 5: Saturday 
We were happy to stay at the resort and enjoyed our morning family swim at the private pool, our lazy afternoon reading a book and my best time of the day – the cocktail hour for villa guests! Sitting on the green lawns, a glass of wine in hand and the setting sun in the sea backdrop could make one forget all their worries and pain. That evening the hotel had also organised a fire dance at the private beach with cushions placed underneath temporary tents and free cocktails and snacks for the public, followed by a wonderful fire cracker show as the grand finale!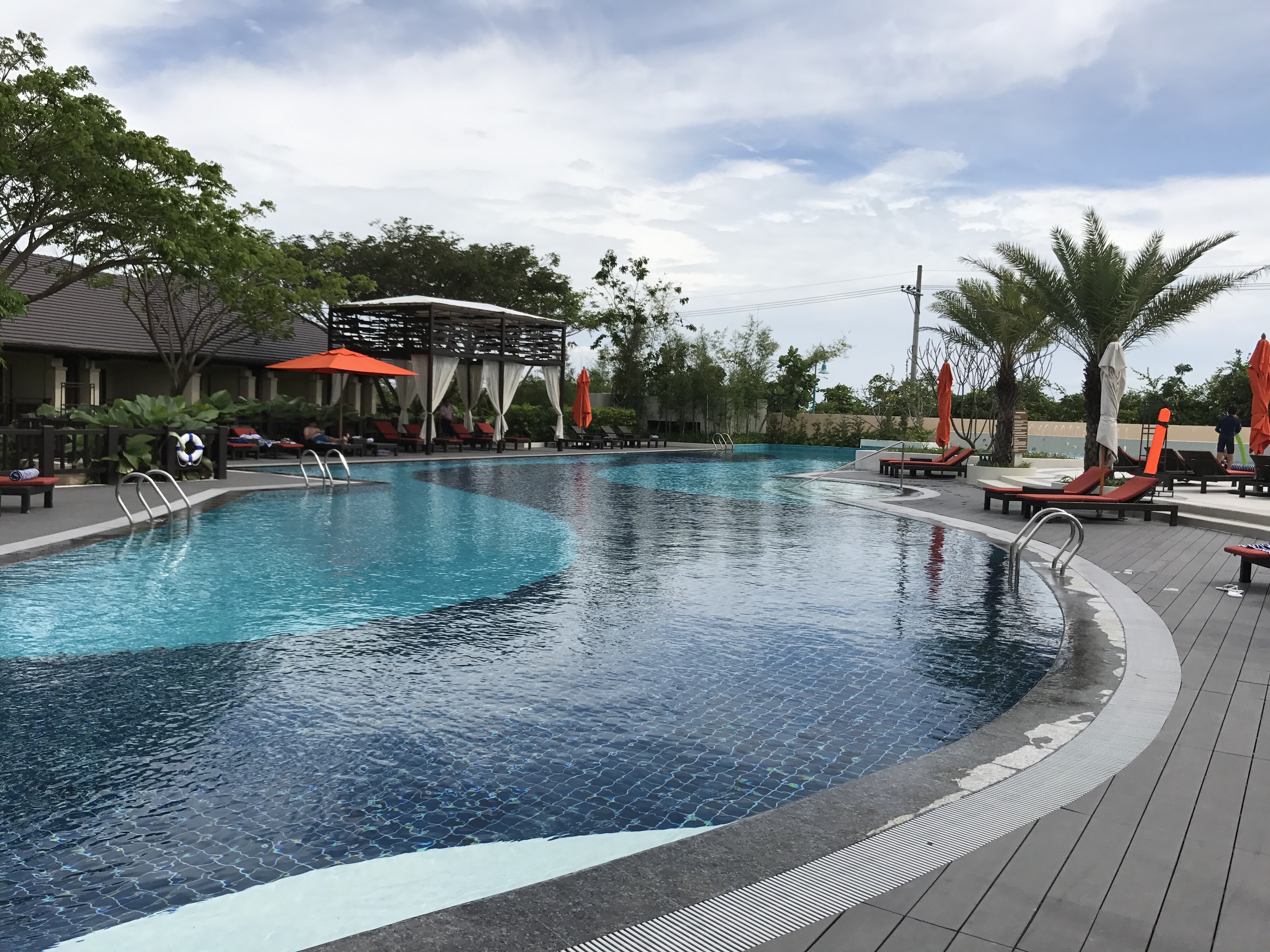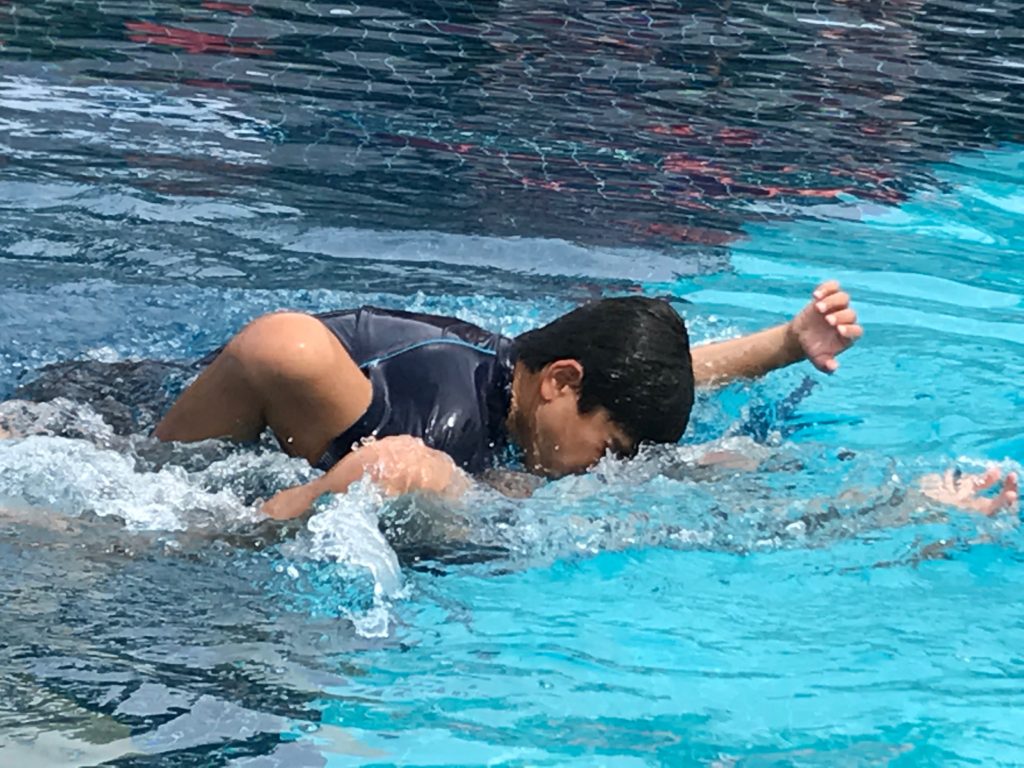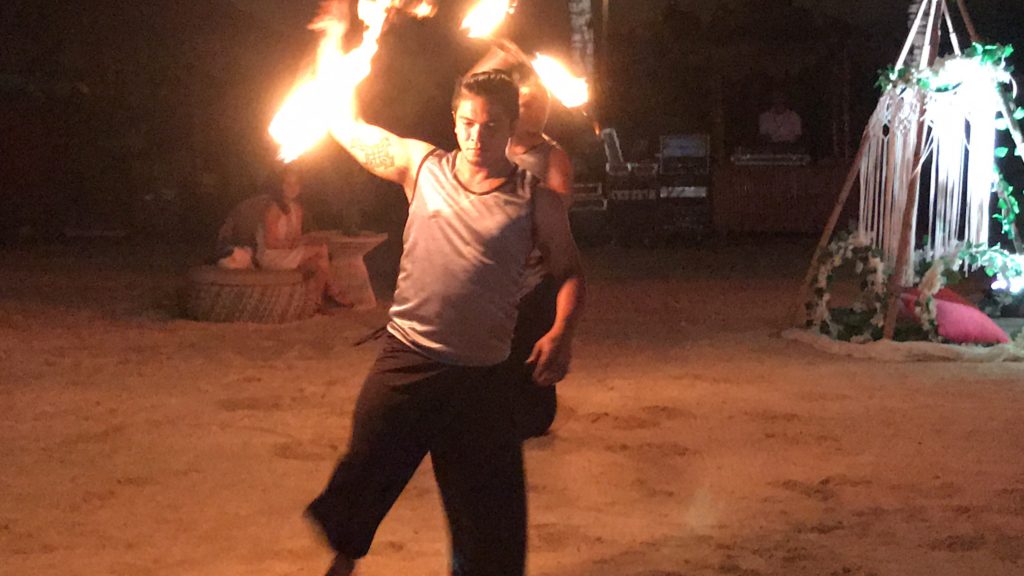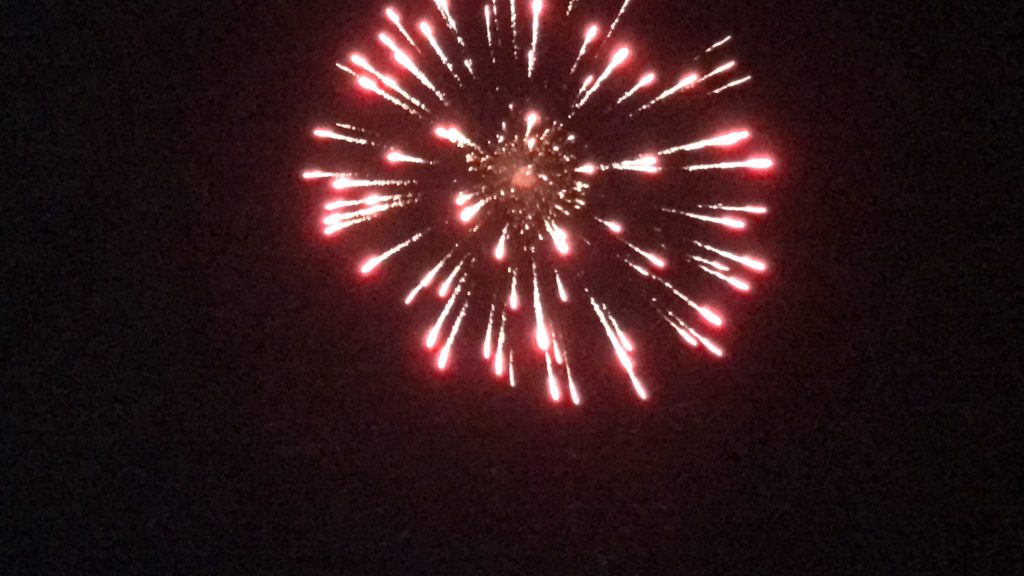 Trip Highlights for each one of us 
Hubby – Scuba diving
13 year old – Swimming with the whale-sharks
9 year old – Riding in the buggy
Mine – Cocktail hour!
Cebu is a wonderful paradise for kids of all ages. I've already made a plan for our next visit where island hopping and beach sports like snorkelling, banana boat and parasailing would top our list!
Comments
comments