It was waiting at the door when we came back home from our Wednesday after-school activity. The neat little brown box was spotlessly clean and neat. Minus the brand logo, I could've added a red ribbon and passed it on as a beautiful box for a present!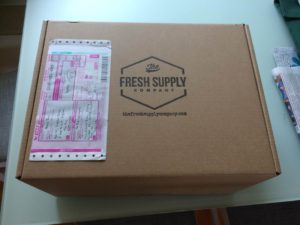 My son and I excitedly picked up the perfectly sized box and put it on our dining table. We opened the box to reveal our "prize" – fresh fruits and vegetables – all covered delicately under a thin brown paper, stacked carefully, beaming with pride in their glossy skins as if polished new, waiting to be taken out and lovingly used! Our added bonus was the Storage Guide sheet which indicated the shelf-life of different produces along with best storage tips! My son promptly stuck that sheet on the kitchen wall!
With all the different variety of produce sent to me, cooking did not feel like a chore for the next couple of days, as I experimented with the vegetables using different recipes. This Parsi coconut chicken curry for example saw a new addition of brussel sprouts which tasted yum when eaten in the curry flavour!
Kale was a first-time ingredient in my usual lunch smoothie which gave it a nice nutty taste beside a whole lot of nutrients.
I even added the generous bag of baby spinach to my palak paneer (cottage cheese in spinach) which turned out to be nice and smooth with a wonderful tangy aroma.
Over next few days we ate their delicious apples which weren't as red and as big as the supermarket ones – absent artificial chemicals I presume, the blueberries and the ripe yellow bananas which is my son's favourite fruit. We also tried a different variety of peaches and plums – ones that we had never eaten before!
There are still the lovely looking courgettes and aubergines waiting to be cooked while I hunt for a new recipe and also a couple of herbs. With next day delivery, attractive prices and recyclable boxes option, I look forward to placing my next order with The Fresh Supply Company soon!
Disclaimer: Please note that while this is a review written on the request of The Fresh Supply Company, the views given above are based solely on my own experience and reflect my thoughts and opinions.
Comments
comments