Incredible but true! The world's only full size replica of Noah's Ark, in our own city, in Hong Kong! Maybe it was too unbelievable, maybe it wasn't marketed as well as the other attractions in Hong Kong or simply maybe because my boys have grown up too fast, which why might explain why we took so long to visit it.
Noah's Ark is located on Ma Wan island, which is located between Lantau and Tsing Yi island, and houses four big developments – The Park Island which is a private housing complex, Noah's Ark theme park, Noah's hotel and Ma Wan park. It is well connected by bus, train and ferry services. We chose to take the ferry route.
Walking along Central Ferry Pier which is main hub of access to all the outlying islands, we first passed pier No. 6 going to Mui Wo, then 5 going to Cheung Chau, 4 going to Lamma island, 3 to Discover Bay. We walked at a brisk pace as we were soon approaching the ferry departure time (schedule online), navigating through the crowd of locals and tourists, who were walking in groups or pairs, leisurely taking photographs, enjoying the gentle breeze that was blowing. I was quite excited about our trip and couldn't wait to get to our ferry but as we approached Pier No. 2 going to Ma Wan, I couldn't help noticing a sudden reduction in decibel levels and by the time we reached the entrance to the ferry pier I noticed that we were the only ones there! "No one wants to go to Noah's Ark Mummy?" remarked my 8-year old boy who was accompanying me and for whom I was doing this trip. I had my doubts too and thought that if nothing else at least the ferry ride would be a good outing! When we walked inside we found a lone ticket agent sitting quietly in his booth. I quickly confirmed that we were in the right place for the right ferry. The man was extremely courteous and helped us patiently with all the information including giving us ferry timings for our journey back to Central. His good manners and friendliness put me at ease and when it was time to board the ferry I was quite happy that we had almost the whole ferry to ourselves!
The good thing about being on an almost empty ferry ride is that one could stretch out, be comfortable and enjoy the passing view in silence. The steady clicking sound of the camera that my little boy was using to take pictures of the beautiful bridges along the way, was probably the only 'noise' around! It turned out to be such a pleasant journey that I was almost sad when it was over. It lasted for about 25 minutes.
When we reached I had expected to see village houses, however Ma Wan did not look significantly different from the rest of Hong Kong. Tall buildings built next to each other greeted us on arrival. However once we walked out of the pier and turned right as instructed by the ferry operator, the broad open walkway, the tree lined avenues with the neatly placed lamp posts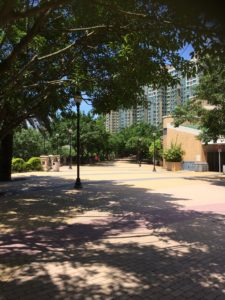 and a beach running alongside cheered us up. As we walked ahead we could also see the imposing Noah's Ark in the distance. It  looked beautiful from a distance. As we walked along the tree-lined path I couldn't help wishing that I had brought my son's scooter along which would've added to the fun and made the 15 minute walk more enjoyable. We passed Noah's resort at first which is not the entrance to the park. After another 5 minutes we reached the park's entrance. We bought our tickets which were inclusive of all the attractions, ate our packed sandwiches and then started our journey towards the Ark. There are no rides or fancy food chains which are common in other theme parks, in fact it was a refreshing change to not have any crowd or queues for any attraction.
We started with entrance F which is the Ark Expo. There are lots of exhibits in this place that talk about the Arc, the story behind it and also about the remains of the Ark being found near Mount Ararat in Turkey. There were also small enclosures having live birds and reptiles which were nice to look at among the fake replicas but would've looked happier in their natural habitat. The best part in the Ark Expo was the short film that they showed about Noah, his belief in God and great flood. It was simple and easy to understand even for my son who by now was quite motivated to know more about this ancient epic.
We then moved to entrance E which had the Treasure House – which in my opinion is the best place to spend time in. Housed on the 2nd floor, Treasure House is made up of several smaller enclosures, I think 15 in all, each one talking about a different aspect of the universe, life, history and culture. There are several interactive games, quizzes and easy to understand story boards and one could easily spend one or two hours going through the entire section. I would say kids in the age group of 3-8 years would be best suited for this place.
.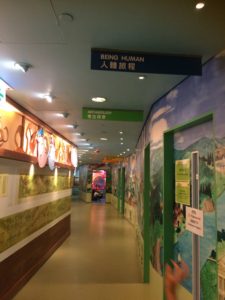 The park although not very big was a bit confusing to navigate and somehow we skipped the other sections and landed straight in the outdoor playground where a breath of fresh air and some snacks helped restore energy. Once again it was nice to have the whole playground to ourselves.
We then walked out of the main Noah's Ark and walked towards the Solar Tower.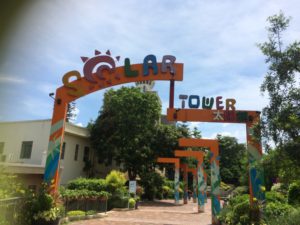 This is a part of the Ma Wan park and about a 10 minute walk from the main Ark but was worth the effort. There were numerous astronomical exhibits and interactive learning about the solar system, but the place where we spent most of our time was in the building blocks area, using little plastic pieces to create a tall structure. It was too hot and we had to catch the 3 o'clock ferry going back home hence we did not have time to see the animal exhibits in the Ark's Garden, nor did we come across the Outdoor Adventure area which boasted of a giant obstacle course and which I am sure my son would have loved. Well, something to give us an incentive to visit another time!
To summarise it was a nice, slow-paced day out, filled with some education and a bit of adventure for children, amidst quiet surroundings which is such a plus for any attraction in Hong Kong.  However if I were a visitor I would only do Noah's Ark if I had extra time and after visiting other theme parks like Ocean Park and Disneyland.
Some helpful pointers for your trip to Noah's Ark: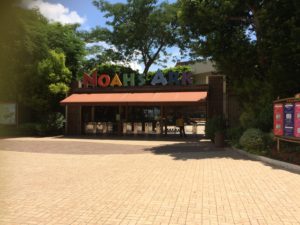 Bring along a scooter for your child to make the walk to and fro the ferry pier more enjoyable.
Visiting the park could take anything from 3-4 hours depending on the interest level and it would be nice to combine it with a swim at Ma Wan beach to make the most of your day.
Another combination one could do is to visit Big Buddha on Lantau on the same day or even Citygate for outlet shopping. I think there are direct buses going from Ma Wan to these places.
Although there is a restaurant and a snack corner in the park, the choice is limited and its best to carry a healthy packed lunch from home plus lots of drinking water.
 3-8 years is the best age group for visiting this park according to me, although Solar Tower could cater to older kids too.
Ferry timings must be planned advance to avoid unnecessary wait time.
Ensure that your Octopus card has enough money and that you are carrying change as there is no top-up facility available at Ma Wan pier.
Last but not the least keep your expectations low, come at a leisurely pace and you are sure to enjoy this theme park with your children!
Please do share your feedback here too.
Comments
comments