I wrote these lines sitting at home, waiting for my 11-year old son to return from his 24-day stay at the fire temple, where he was a part of various rituals and ceremonies conducted in order to gain the honour of becoming a Zoroastrian priest –  just like his father. This ceremony is called 'Navar' and growing up in Mumbai while I did know about the term Navar, I only started learning about its importance, significance and practice once my son decided to become one. And while different sources offer different forms of knowledge – some more technical than the others, I feel that the essence of the whole program lies is in its simplicity. It's a ceremony yes and that's what most people, at least 'Behdins' (non-priestly family) like us know and talk about, but it is also a process of purification, which in my mind has much more importance in shaping the mind and body of a pre-adolescent child.
Called the 'Nahan', it is not only a process of self-discipline, self-purification and self abnegation but also a process of imbibing in a child our rituals and traditions that have perhaps over time become diluted as our lives become more modern. Self-discipline is in the form of having control over your hunger, your wants, your comfort. Having strict daily meal routines, doing prayers before and after meals, skipping lunch in the later part of the ceremony, sleeping on a thin mattress on the floor, eating food in silence whilst sitting cross-legged on the floor, not being able to touch another being, no games, no toys, no electronic devices used to spend time except reading books and performing prayers morning, noon, evening and night, are just some of the examples. And we are talking about boys between the age of 9 and 12! I spent most of the hours in my day visiting my child, talking to him when possible, reassuring him when the day felt too long and when late evenings felt too lonely, but more importantly I was there because I wanted to be there, in fact I loved being there. Never before have I felt this sense of peace and calm, one that emanated from the chants in the air and the purity of the souls. I knew my son was in a safe place. That he had two other young boys who went through the Navar ceremony along with him was an added bonus. Together their prayers seemed to reach the oldest of ears, their pure white outfits along with the traditional white caps seemed to be noticed by the weakest of eyes and their laughter echoed through the walls, bringing in more people than ever to this sacred place of worship.
Sorry…..I got carried away…..coming back to those lines now…..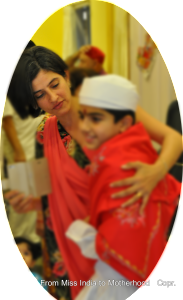 I sit here
And wait alone
For my precious child
To come back home.
24 days seemed long and slow
But the next 60 minutes even more
The rituals he had to follow
The rules and regulations too
Praying and praying for hours on end
Wasn't an easy thing to do
The long days, the lonely nights
Of not being able to hug him as a mother
Made me want to scream at times
When someone asked "What do they feed him?"
"Oh God how does that matter?"
Of eating what he's offered
And not make a fuss like he does at home
Of sleeping on a thin mattress, of being polite
And obedient, and do all as told
Of holding back the tears as the lights go out
The things that I prayed for outlined
His good health, during those never-ending weeks,
His happiness and his peace of mind.
And while the wait was long and hard
There were a few "highlights" you see
Of chatting with my son for hours on end
And not being disturbed by technology!
And saying "Yes he is my son" 
When someone would ask me passing by,
Then watching the glow of delight on his face
When they would praise him low and high.
Yes he couldn't come home all that while
But he was as lucky as he could get
For his very big family would pay him visits
His grandparents, his aunts, his cousins he met.
I can't keep waiting anymore
Twiddling my thumbs and getting them sore
So I now march silently down the road
A big broad smile forming on my lips,
I have never held my head up so high
My son, my priest, my pride – look there he is!
Comments
comments