It's here! Finally! After months of planning, days of thinking and nights of putting my thoughts onto paper, my brand new blog is ready. With my own personalised domain name on a paid host server and WordPress as the platform, it looks like I am all set to get professional! Did you know that WordPress is an online, open source website creation tool written in PHP. But in non-geek speak, it's probably the easiest and most powerful blogging and website content management system (or CMS) in existence today? I cut-paste that line straight out of google search by the way! 'Most powerful' maybe, 'easiest' maybe not cause if I had to do this blogspot to wordpress transfer solo I would still be struggling with the back-end. This blog's slick professional look, jazzy fonts and colour coordinated widgets would not have been possible without the hard work and dedication of Kaushik Somaiya, who specialises in building and designing blogs and who is the technical whizkid behind my blog. He would have done a lot more fancy stuff – pop-ups, dynamic pictures and the works, but like I told him, let's take one step at a time.
Please be aware that it is only the blog's 'look' that has changed, not the soul. I will continue to write whatever grabs my attention and evokes enough passion to put it down into words. This time though I have tried to make my site more reader-friendly by categorising my random thoughts into six different sections. They are Being Mummy, Family Time, Me Time, My Many Moods, Miss India, And More. I have also re-written the About Me page adding some more snippets about my life along with a new cover photo taken last year on a cool breezy day near the tallest building in Hong Kong!
Some new features include the Recent Comments section in the right-hand side bar – hope to see your comments/feedback there, Related Posts at the end of each post will guide you to similar topics and don't forget to share the posts that touch your heart using social media sharing buttons after every post. If you are looking for an old post or something in particular, try using Search in the right-hand side bar, alternately you could go to Archive or Labels given at the bottom of the page.
Lastly but something that took a lot of time and consideration is the new logo designed for my blog. ​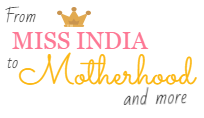 Designed using an infographic software called Piktochart, as recommended by my blog designer, the new logo tries to encompass the spirit of the two very different roles of a Miss India contestant and a Mother using carefully selected fonts and colours and of course the little crown to add more effect! I have added the words "and more" as now after being a mother for more than 11 years I feel life is going through a full circle as the motherhood pressure gets lesser and lesser and the focus is slowly coming back to self, where the little ones are ready to leave the nest and I ask myself "What next?"
Look forward to having your comments on the new design or any other feedback or suggestions that you may have. Feel free to use the comments section below or the Contact Form provided and don't forget to stay updated by subscribing to our free newsletters which would come straight into your inbox!
Have a great day!
Comments
comments