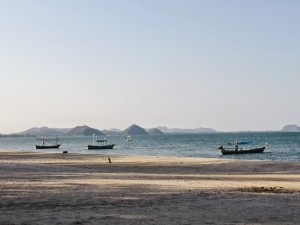 Sam Roi Yot – a view of the beach across our resort.
Sam Roi Yot, yes that's where we went to for our family holiday this Easter break. Not the better known Koh Samui, or Kota Kinabalu, or Hoi Ann or Phnom Pneh, but after all my globe trotting efforts on the web, this small, lazy town which is 256 kms South of Bangkok in Thailand is what I chose, The reasons were fairly clear – I wanted a lazy rested holiday with nothing to do except eat, sleep and breathe and for that a location by the beach works best as I was going with my strapping young lads who have abundant energy and who need something and somewhere to spend that excess, without burning off too much money! The resort was highly recommended by a friend who usually spends a good few weeks there every year with her family. So hotel and flights booked in a span of three days, this holiday felt rested right at the start! 

Not so rested was our journey which started with a flight delay of over two hours and with not much in-flight entertainment for short-haul flights in Cathay Pacific, I couldn't wait for our journey to get over. Our second delay came in the form of getting our visa, which sounds so comfortable when it says
'Visa available on Arrival'
on Thailand's website but which isn't as easy to procure once you are physically there. We hold an Indian passport and hence need to obtain a visa for most countries before travel, so while our Caucasian counterparts can just saunter off to any destination at the very last minute, we almost always need to plan ours much in advance. Anyway coming back to our series of delays – first the flight, then the wait to get our visas from tired-looking, unenthusiastic officers who seemed extremely over-worked at the only two counters that they were operating, stamping passports with a big thud for a steady string of noisy, agitated travellers; and finally the delay in finding our airport pickup taxi! An unsuccessful conversation with the Thai airport
"help desk"
, a phone call to the resort using the phone and local language services of a complete stranger who offered to help us, it was almost 11pm by the time we found our taxi man who had suddenly appeared on the scene, wondering what all the fuss was about!
Welcome to Thailand – our holiday had just begun!
Well I must give it to the van driver to bring us to the hotel in just a little under 3 hours instead of the staple 4, covering the miles with his foot pressed firmly on the accelerator and his eyes (hopefully) glued to the windscreen. The minivan must have swayed a bit at times and he also made a pit stop at a deserted gas station, had it not been for the presence of my husband, I would've stayed awake the whole journey fretting and fuming! Instead I left the worrying to him and spread myself on one of the seats just like my boys who were lost to another world. Finally at 2 am we reached our destination. If I was expecting a 24-hour lobby service with a smartly dressed receptionist waiting with a welcome drink and a string of apologies, I was mistaken. The creaky little gate was opened by a groggy looking watchman who greeted us with a jingle of our room keys and showed us the way to our rooms.
"Where is the hotel?"
inquired my little one who was expecting a
usual posh skyscraper, bright lights and elevators.
Our quiet little bungalows surrounded by swaying trees and dark lawns was certainly not what he had expected.
I held my breath waiting for the whinging to start. Luckily when we reached our rooms both the kids got excited about having a room (for the first time during a trip) to themselves and were keen to get started on the independent bit, pushing us out of the room. 5 minutes later they were fast asleep.
After a fitful night with just a few hours of sleep, I was woken up at 8 am by my little early riser who filled the room with warm, bright sunshine as he lifted up the drapes and opened our door. Not the one to go back to sleep once awake, I got dressed and marched straight to the reception office ready to assault them with my string of complaints! That my neck was feeling as stiff as a stick made my mood only worse. However to their good luck there was no one at the Reception desk. I had to ring a little bell lying on the desk to bring out a "Sawadhi-kha" even before I could see the person! She straightaway showed me the registration forms to be signed and handed me the breakfast coupons, but I was having nothing of it, as I raved and ranted about the late pick-up, the late hour of the flight arrival (as if that was her fault) and lastly the 'missing' connecting door to the two rooms that we had booked! "All our connecting door rooms are sold out, or maybe we could give you one for the first two nights and then you would have to shift out……." And so on and so forth were the excuses provided. I tried to quickly get connected to their wifi to show them our exchange of emails where they had confirmed connecting rooms! "Why else would I take two separate rooms?" I asked them, expecting them to know the answer. Following a series of printouts of the emails and plenty of internal staff conversation in Thai, they realised their mistake, apologised profusely and said they would be able to give us the rooms post a check-out later that day. Phew! I felt a little bit better.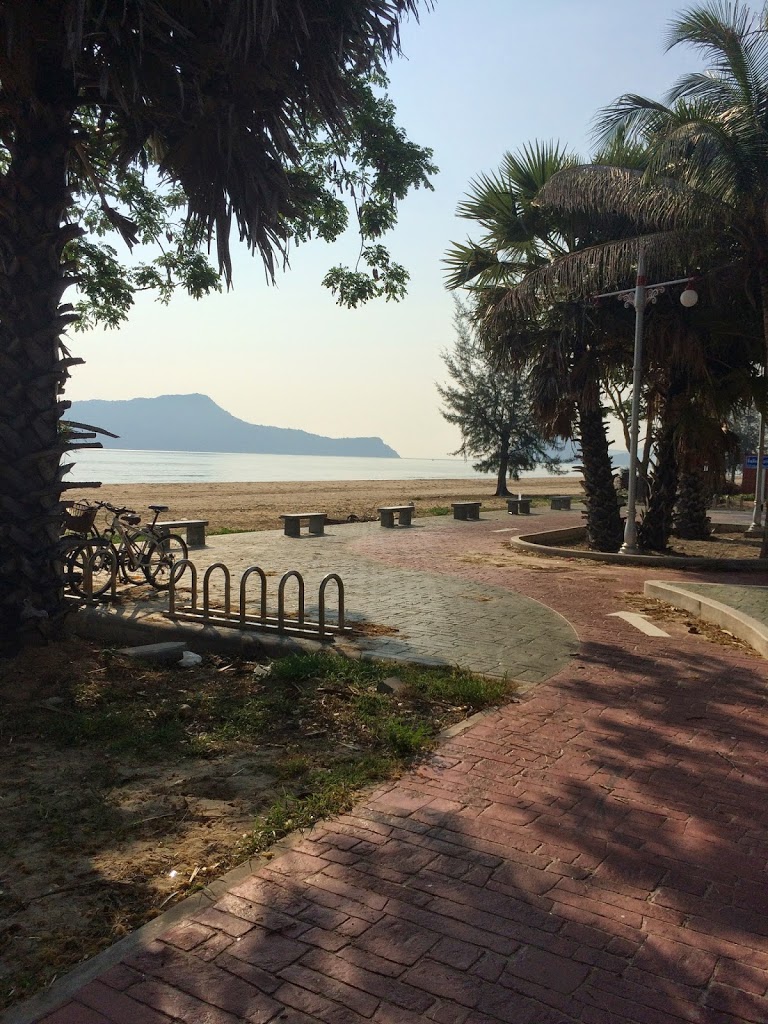 Bicycling path – Sam Roi Yot
Once that was out of the way, we headed straight for breakfast. It was a decent spread of Thai and Continental dishes, not as lavish as some other ones we've had but enough to satiate one's appetite. That done the kids jumped straight into the pool. A dip in the warm water, it was the kind of temperature that I always like in a pool, I watched the kids go for the hundredth time on the water slide, trying out different positions. Their laughter plus my cup of coffee elevated my mood further and it was then that I observed my beautiful surroundings for the first time. The pretty little cottages side by side, the splash of blue with two decent sized pools and abundant greenery actually made the setting look very relaxing. The happy travelers around me, most were young families with babies and toddlers in tow, the friendly waiters, the long list of cocktails in the menu and a surprise complimentary spa massage given by the hotel for all my unnecessary stress earlier – worked well in setting my mood several notches towards a lighter, happier feeling.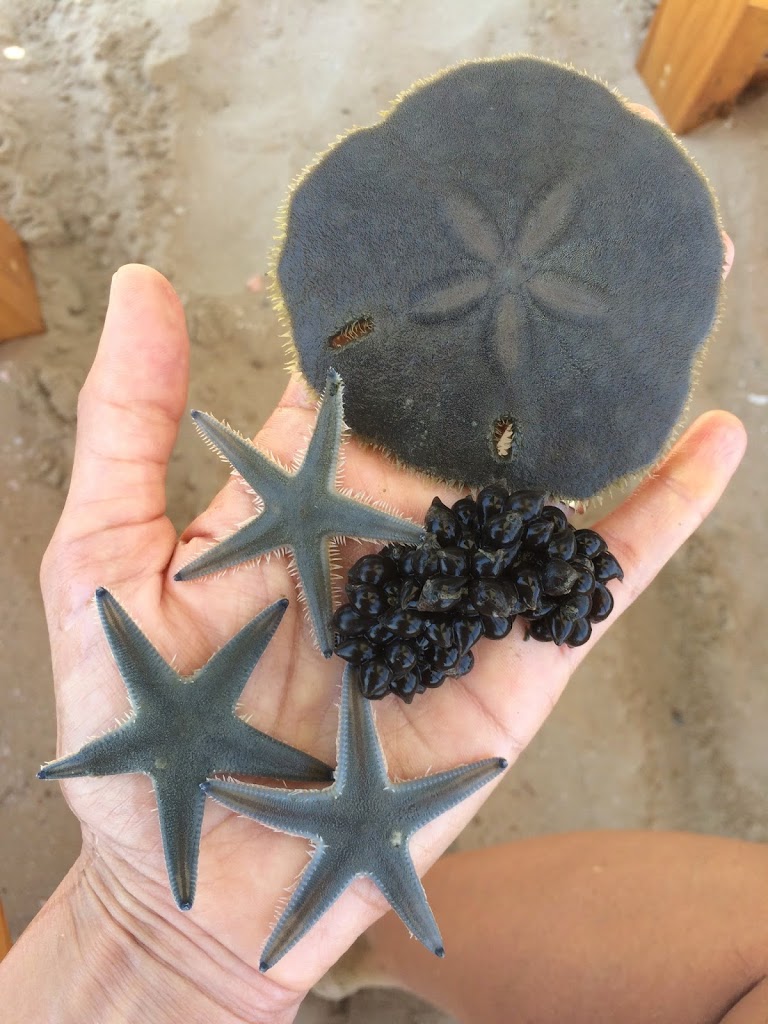 The same day we made new friends at the resort. A Thai-American couple from California who had a little girl and two boys of similar age as mine. After  the first shy, awkward moments, the boys hit it off really well. After spending hours in the calm waters of the sea picking up starfish, sand dollars and mini crabs and paddle boating too, we all headed happily back to our rooms to spend some time in the air conditioned interiors soothing our almost burnt skin! The evening was spent taking a walk down the road exploring our neighborhood. "I don't like this place," complained my 7-year old. "Where are all the cars and the 'tuk-tuks'?" I couldn't believe it! Here I was finally getting peace and quiet away from the maddening crowd and traffic back home and here was my little city-dweller complaining about the lack of noise!
The next day which turned out to be the highlight of the trip for my boys was a day spent at a recently opened water park nearby. We all had a great time actually thanks to our lovely newly-made friends. Although we did most of the rides/slides together, I am sure our kids wouldn't have missed us at all had we just parked ourselves in one place and just let them be! Teamed up with the other two, morning turned to noon and noon to evening, as we got splashed around by crazy rides and water everywhere! Thank God it was a hot day as usual else I wouldn't have been able to stand so much water on me all throughout the day! I also managed to take a quick nap in-between and complained about being 'left-out' the minute I woke up! All said and done it was a lovely day and we all were in high spirits as we drove back to our resort. 
Having spent a frenzied day in the water park, we decided to spend the rest of the holiday in the resort, relaxing by the pool,  and did not venture out much. Oh well once I did cross the road to buy a new swimsuit from a kind Thai lady who apparently had walked several miles to sell her wares, and once to get a braid-fix! I love these tiny little braids that the Thais are so good at making. It makes my hair look so different and manageable atleast for a couple of days after. 

Breakfast, lunch, dinner were all spent in the little restaurant in the resort overlooking the sea and the pool. The waiters were very friendly and the food delicious and hygienic. I think between the four of us we must have tried out almost every dish in the menu over the five nights spent there. It may sound boring not having anything to-do, but trust me time just flew! The resort had other things to keep us busy and I must say we tried them all! Thai massage, foot massage, spa treatments kept the adults busy, while the open lawn, the playground, the pool of course and a children's room where kids could watch movies free of charge kept them boys busy and happy. It was such a big change not having to manage schedules, do time checks or rush around seeing this and doing that. One of my best memories from this holiday is a quiet run on the beach early one morning, after watching the sun rise beautifully over the mountains. My cousin who lives in Bangkok did a 6 hour journey along with his girl friend only to come and meet us and spent a night in our paradise, adding to our joy and happiness.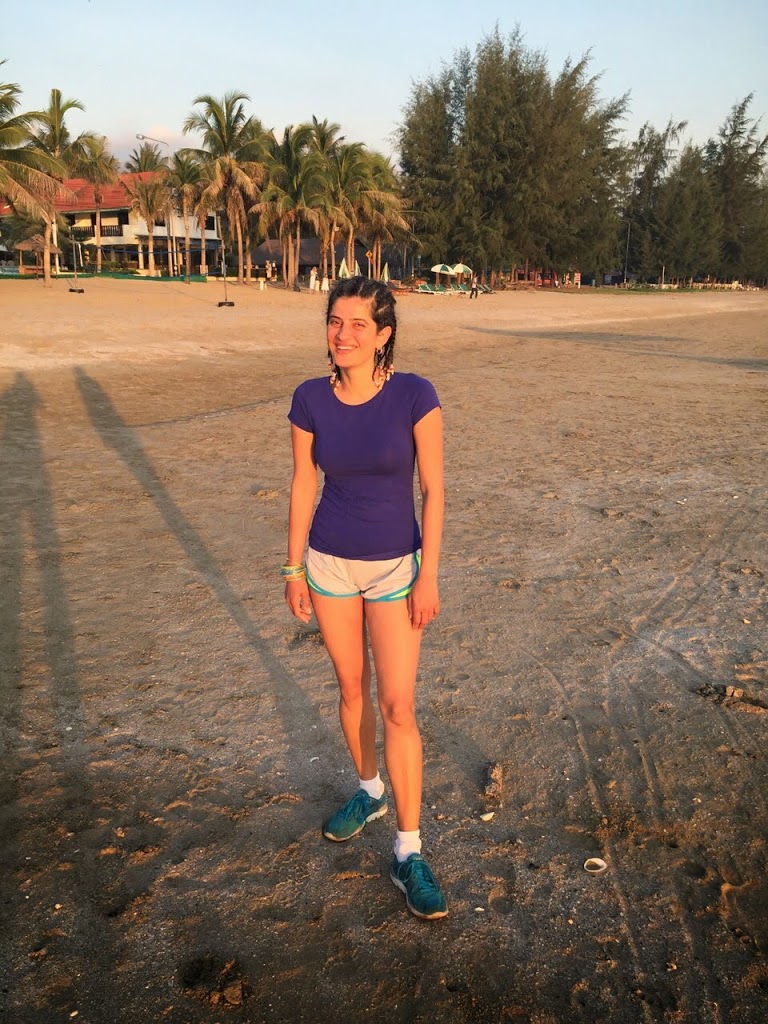 Just before my jog
Oh and before I forget I also taught my son how to ride a bike! One could rent a bike, scooter, car from the hotel at a small cost per hour. And there were lovely safe bike lanes on the roads, though considering the non-existent traffic one technically didn't need them. Anyway after a few hits, falls and mis-balancing acts, my 7-year old managed to get it right! It was such a thrilling moment for both us watching him glide down the path confidently after just three days of training, I felt like a new mum watching my baby walk for the very first time!

Yet another memory that will bind us to this wonderful place forever. 
Comments
comments