Can't believe we are in December already! This year's gone by in the blink of an eye. Seems like yesterday when we moved to Hong Kong from London. We have been riding on a roller coaster ever since. Settling down in our service apartment, making new friends, waiting for the school admission, hunting for our new apartment, making a whirlwind trip to India for my son's Navjote (thread ceremony) and then making it back here the very next day to an unfurnished flat in a completely new locality with freezing weather! But there was no time think or blink as the steady hands of the ticking clock and the love of my family and friends kept urging us on. January turned to July which soon turned to December – my most favourite month of the whole year….ever since I was a child.

December brought no major season change for us in good, old Bombay. No barren trees, no frost covered leaves…. just a wee bit of winter chill, enough to get our sweat shirts out of the suitcase and look a bit stylish, a bit different wearing them over our school uniforms. Most of my sweat shirts were bought from US. and I am not saying this as something to boast out here. Actually my dad had travelled to USA once and dad being dad, he had bought everything by the dozen. So the two dozen sweat shirts that he had bought for us in different colours and sizes lasted us from school through college! December also brought with it my favourite festival – Christmas! The long Christmas holiday, the festivities, the Christmas tree decoration at home and putting cotton on the real tree in our building compound, shiny lights, Christmas carols and then…… the wait for Santa! I couldn't wait for mummy to buy us our Christmas stockings and then I couldn't get myself to sleep on 24th night cause I so wanted to meet Santa. Even after I 'saw' Santa when I was a bit older and lay awake to catch him, I couldn't wait to open my Christmas gifts! The last few times after my mum refused to pretend and buy us Santa's gifts, I think we went and bought our own presents and filled up our stockings in the middle of the night pretending to be Santa!
Christmas as a teenager was very different though with Christmas eve spent with friends. Friends, parties, pretty dresses and curfew times were more the order of the day. Christmas was all about looking good, dressing up well and of course feeling good. Till the parties started getting a bit stale, year after year and the going out became more of a ritual. Thank goodness marriage and motherhood happened soon after.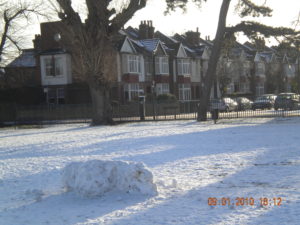 It was back to stockings, Christmas tree decoration, Santa and gifts…..just that I was at the giving end now, becoming a quiet Santa in the middle of the night, tucking away gifts under their pillows and practicing the 'surprise' look for the morning after! Santa was more believable back in London as we lived in a Victorian house with a fireplace, chimney and all. Santa could easily "park" his reindeer and sledge on the rooftop while he climbed down the chimney with his big red bag full of gifts, looking for the children. That Christmas, we had decorated a beautiful Christmas tree, full of angels and twinkling balls and lights right in front of the fireplace in our reception room with all our gifts under the tree. It was truly magical and was one of my best Christmases ever! All the neighbourhood houses had also put up colourful lights and trees, the streets and malls were lit up in red, gold and green, holly bushes in the lane and falling snow all contributed towards making a picture perfect Christmas!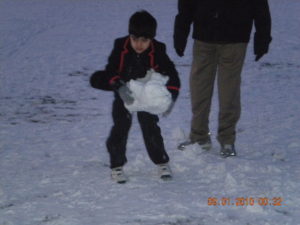 Times Square, Causeway Bay – Christmas time
Hong Kong is in full festive spirit too as wherever I go I can hear the tunes of all the popular Christmas carols- "Joy to the world", "Deck the halls", "Jingle bell rock". The streets are lit, the stores filled with Christmas goodies and promotions and there are Merry Christmas signs and Christmas trees put up everywhere. The only thing missing is the snow! The schools have Christmas concerts and I am specially looking forward to my younger son's concert as he's been practising his carols very seriously- in the bus, on his scooter, in his bath – and I have been learning along with him, skipping to his tunes on the walk back home from school. His teacher tells me that he is one of the best singers in the class so she is completely depending on him on have a successful show! Fingers crossed! We have been busy making Christmas cards since last weekend and I yet have to put up my Christmas tree. 16 days more to go with a zillion things on my 'to-do' list. As I steadily start crossing each one out, I can't help humming to–

Sleigh bells ring
Are you listening?
In the lane
Snow is glistening
A beautiful sight
We are happy tonight
Walking in the winter wonderland!


Our designer cards for this season
Listen to the whole song here

MERRY CHRISTMAS!
Comments
comments